"Hey Alexa, play 'The Sweet Escape'"
Music is an essential part of BVNW students' school days and they use it to cope with their daily lives.
Sophomore Ben Silin said earbuds are part of his daily look.
"I'm always listening to music. I usually have at least one earbud in," Silin said. "I always walk around with them because that's the best time to listen to music."
Teachers make the ultimate decision on whether students are allowed to listen to music in class. However, the teachers who do not allow music may not know what is going on in some of their students' lives. 
ELA teacher Ryan Mahoney, who sees the value in utilizing music as a tool, said he does not mind letting his students listen to music if it is an appropriate time.
"I want kids to know logically when it's a good time [to listen to music]," Mahoney said. "You're [old] enough to be able to make that decision on your own."
In contrast, French teacher Breanne Buchanan does not permit students to listen to music in class when practicing speaking and listening skills.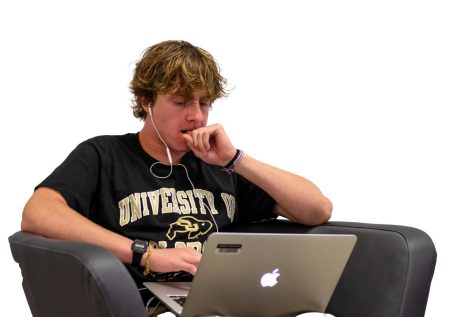 "You've got to be able to hear the language before you start using it… in order to hear the pronunciation [and] the differences in grammar, you've got to be able to hear it," Buchanan said.
However, Buchanan does acknowledge how music can help students relax and unwind.
 "There are certain times throughout the day when you just need a release or you need an escape, and music can be that," Buchanan said.
Buchanan also mentioned she sometimes will allow students to listen to music when they are working independently or after a test. 
"If they ask in French, there's no reason for me to deny that, but during a class activity when I'm speaking and when they're speaking and listening to each other, it just doesn't make sense," Buchanan said.
Occasionally, senior Rachel Gillam said she listens to music while doing work in class, against her teachers' wishes.
"​​I would prefer to listen to music, and maybe not do the work to the best of my abilities, but be able to enjoy that process," Gillam said.
According to the Journal of Young Investors, studies show music has positive effects on neurological stimulation and alleviation of anxiety. Music can be a tool for people, especially teens, to cope with stressors in their life. The impact of music allows people to have an escape, or focus on something else.
Psychology teacher Heidi Gipple, explained the importance of what type of music students usually work better with.  
"[Listening to] things that are more instrumental and classical music, a lot of people are more able to pay attention to things, while they listen to music. They're typically [better because] our brains aren't really built to multitask," Gipple said.
Gipple also described how music can be a good resort for students.
"Our brains release a hormone called cortisol when we are willing to bring our stress levels down. [Our] brains like when we listen to really soothing music; our brains really respond to that and really enjoy kind of that calming nature," Gipple said.
Gillam said she uses music to process her more complex emotions, such as anxiety or grief. 
"A lot of times, I listen to it to get my mind off a stressful situation. If I can focus on the words or the beat, I don't have to think about the stressful thing," Gillam said.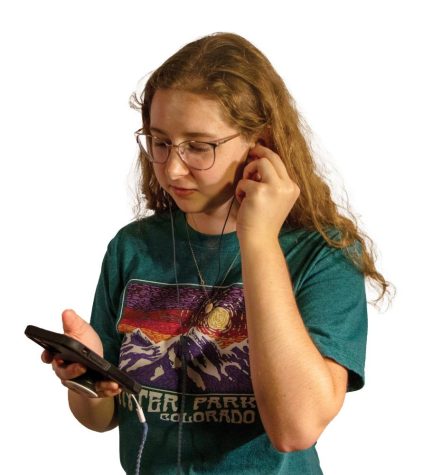 Similarly, Silin said he listens to music when he gets overwhelmed. Music can help him deal with his ADHD, Silin added.
 "When I'm not taking my ADHD medicine, music often helps me concentrate and have something going in the background while I work," Silin said.
Silin said he likes to listen to calm, relaxed music. He said he listens to a lot of different artists, but some of his favorites are The Lumineers, Caamp, Jack Johnson and Bob Marley. Silin said he has listened to Bob Marley since he was young because he finds tranquility in his lyrics, which stays true to this day.
"Almost all of [Bob Marley's] most famous songs were about him wanting peace and everyone calming down," Silin said.
Similar to Silin, Gillam explained when overwhelmed, she finds relief in listening to her favorite artists Sam Smith, Olivia Rodrigo and Conan Gray with her Airpods.
Gillam said music is soothing because it is something that ties people together. 
"Music, while it's super great to connect with [on your own], it also creates connections [with other people]. It's not just about the one-on-one experience with you in the music; it's also about finding other people you can relate to," Gillam said.
Although Silin said he enjoys listening to music by himself, he also said he likes to listen to it with other people who have the same music interests as he does.
"I love listening to [music] by myself because it just gets me in a good headspace," Silin said. "When you're with people, showing them different songs and building off of each other, [playing songs back and forth] is a good way to find different music and become more informed about it."
Silin also mentioned he likes listening to music in several different ways. 
"I do use Apple Music just to listen to music through headphones, but I love listening to CDs and vinyls at home," Silin said.
Overall, Silin explained how he thinks music is a great escape. 
"If you can incorporate [music] in your daily life, then it often helps a lot," Silin said. "If you're ever going through a tough time or a good time, adding music will make it 100 times better."
Leave a Comment
About the Contributors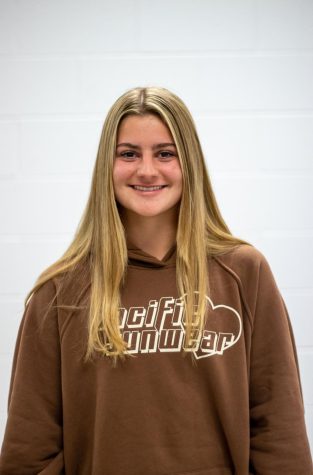 Alex Cowdrey, Writer
Alex Cowdrey is a junior and a writer for "The Express." This is her second year on staff. Alex is also a member of Sources of Strength and girl's soccer at BVNW. Outside of newspaper, she enjoys playing soccer, spending time with friends and family, listening to music and watching movies. Overall, Alex is excited to meet new people and continue giving voices to individuals within the community who might feel like they don't have one.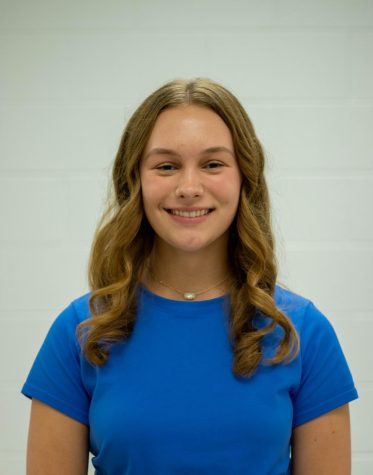 Lexi Jones, Writer
Lexington Jones is a writer for "The Express." She is a junior and this will be her first year on staff. Outside of room 902, Lexi actively participates in DECA, FBLA, NAHS and BVNW Ambassadors, as well as being a board member for KAY Club. In her free time, Lexi enjoys going out to eat with her friends, sleeping in and listening to Harry Styles. She will watch any Marvel movie, and has rewatched "Riverdale" an embarrassing amount of times. Lexi is thrilled to join publications and is excited to explore the "behind the scenes" of newspaper.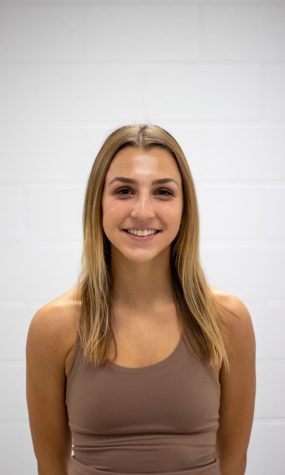 Lila Vancrum, Print Photo Editor
Lila Vancrum is a junior and the Print Photo Editor for "The Express." This is her second year on staff, previously serving as a photographer. Outside of newspaper, Lila is involved in girl's soccer, KAY Club and Quill & Scroll. Outside of school, she plays soccer for Kansas City Scott Gallagher. In her free time she enjoys going out to eat, hanging out with friends and binging TV shows, her favorites include "One Tree Hill" and "Pretty Little Liars." Lila is excited to take on the role of being a photo editor and hopes to improve the photography for stories and social media.