Reasons Croatia will win: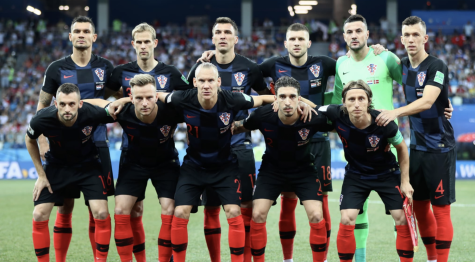 Croatia's results leading up the the final- (W) 2-0 Nigeria; (W) 3-0 Argentina; (W) 2-1 Iceland; (W) 1-1 (3-2 Pen.) Denmark; (W) 2-2 (4-3 Pen.) Russia; (W) 2-1 England
With a surprising run to the World Cup final, Croatia is coming in as the underdog this Sunday. Ethan Knauth gives you three reasons why Croatia will win the World Cup Final:
Luca Modric and Ivan Rakitic- Since Rakitic's summer arrival to Barcelona in 2014, these two have ruled their respective team's midfield, Barcelona and Real Madrid, in one of the worlds toughest leagues, La Liga. Now they are ready to solidify themselves on the world's biggest stage with Croatia in the upcoming World Cup final. Together these two are deadly, as Modric has notched two goals and an assist in the tournament and Rakitic has added a goal as well as the two penalties to send them into the next round against Russia and Denmark. With Modric and Rakitic on the field, Croatia will have the ability to dictate the run of play as well as the possession to hopefully win their first World Cup.

Resiliency- Croatia has not had an easy go of it to make it to the finals. After three relatively stress-free wins in the group stage, Croatia conceded first in all of their knockout round games leading up to the final. Yet, in every game Croatia managed to claw their way back into the game, forcing extra time in all three. Three extra time games also means playing 30 extra minutes in each of those games, totaling to 90 extra minutes, that's like playing another game. But, in every game it's the same story, Croatia eventually comes out on top, whether through a penalty shootout or an extra time goal. This shows that no matter what France throws at them this Sunday, Croatia has the mindset to give themselves a fighting chance.

Possession based attack- In all of their games, except the 3-0 win against Argentina, Croatia has had the majority of the possession of the ball. In the upcoming final against France, there should be no difference. Yet, what is possession if the team will not be able to go forward? Well, Croatia answers this question by having made possession the focal point of each of their attacks. Croatia does this by slowly breaking down the pressure and working their way into a scoring position. Having possession will also help Croatia slow down the pace of the game, as they will not have energy after three straight 120 minute games to keep up with France. When Croatia has the ball this Sunday, expect them to dictate play with possession of the ball.