Dazzlers And Cheerleaders Support Light The Night Walk
BVNW Dazzlers and cheerleaders participated in the Light the Night Walk at Cleveland Chiropractic College on Friday, Oct. 5. The national event raises money for leukemia and lymphoma.
The event began with a small carnival at 6:00. There was a remembrance ceremony at 6:45, and the walk began at 7:45. Dazzlers had two performances throughout the night and walked the one-mile route. Cheerleaders encouraged them from the sidelines and helped out around the event.
"It makes it more real to be here and see how it actually affects people," senior Dazzler Rachel Full said. "It's great to be able to help."
The Dazzlers fundraised and walked as a part of Team Koontz. The team supports Melissa Koontz, a Dazzler who was diagnosed with leukemia her freshman year. Koontz graduated last year, but thinks it's awesome that the team still supports her.
"It feels great to know that my teammates are still thinking about me and that they care so much about this cause," Koontz said.
This is the fourth year the Dazzlers have participated, but the first year for Dazzler head coach Andrea Smith. She said she loves how the event can impact her team.
"I think it's good for them to work together for a cause," Smith said. "It's not for us, it's for someone else. Anytime you're helping other people I think that helps bring teams like us together."
Before the walk, illuminated balloons were distributed among the crowd to light the night, in remembrance and support of those who have been affected by leukemia and lymphoma.
"It's nice because whole community comes together," Full said. "I love coming here each year."
About the Writer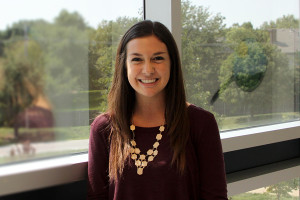 Cara Brashears, The Express Copy Editor
Cara's blog: Finding Endorphins