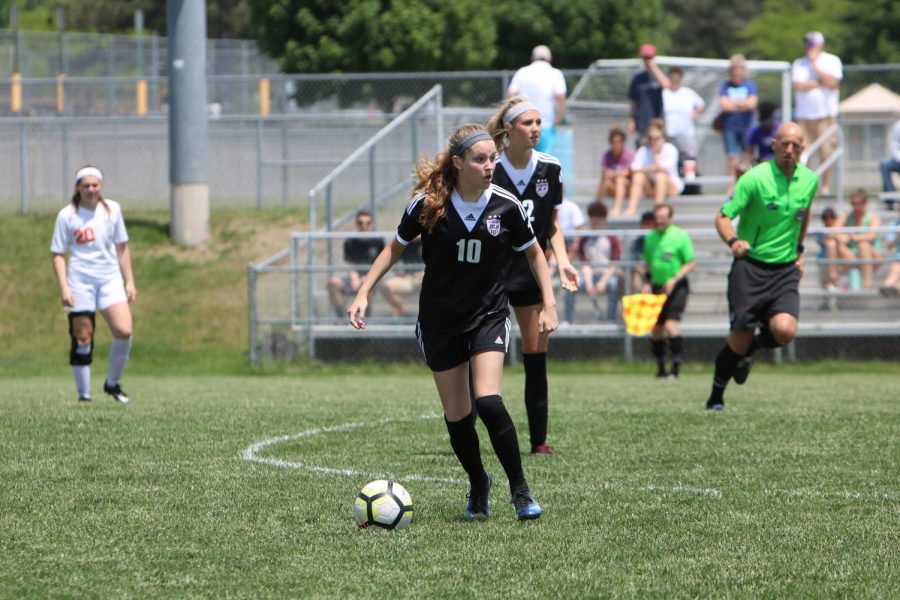 Audrey Peterson
Seeking to build off their previous upset against Olathe East, the No. 14 Huskies attempted to continue their surprising run into the postseason as they fought for a state championship birth against the No. 11 Cougars at the Shawnee Mission Athletic Complex. Ultimately BVNW fell short, as SMNW scored in the first 30 seconds of the third overtime to finish the 2018 season for the Huskies.
Northwest came out firing on all cylinders in the first half, as they were able to punch in the ball from a corner within the first 20 minutes of the first half. After being batted around in the box, the ball fell generously for junior Lindsay Collier, who was able to put the ball in the back of the net to give BVNW the 1-0 lead.
Despite a strong start, the Huskies came out flat for the second half. Senior Avarie Howard said the team decided to stay back to protect their lead, which ultimately led to conceding a goal.
"We kind of fell off our game a little bit and I think we kind of went into survival mode," Howard said. "We didn't have much control."
With the game tied 1-1, the Huskies went into overtime. One and a half scoreless periods of overtime were played before the game was called due to severe weather on Wednesday.
When the game was resumed Thursday, the Cougars defeated BVNW off a free kick just outside the 18-yard box in the third overtime. The Huskies conceded the free kick on a handball by sophomore goalkeeper Rachel Bagley. Collier said the Huskies should have done better with their earlier opportunities in order to have avoided the mental mistake leading up to the game-ending goal.
"We should have beat them in just a normal [regulation] game," Collier said. "In overtime, we couldn't get the ball in the back of the net."
As a No. 14 seed, Howard was proud of her team for never quitting even when the odds were stacked against them.
"We believed in each other and put everything out on the field," the four-year varsity forward said. "I think people saw us as a 14 seed and were kind of like, 'oh we'll be able to beat them.' We kind of gave them a little more of a run for their money."
The loss marks an end of an era at Northwest, as head coach Rick Pribyl and assistant coach Brian Murphy retired from coaching following the postseason. The pair brought seven total state championships to the program, with three on the boys side and four on the girls.
When asked if she had any final words for Pribyl, Howard said she will sorely miss the great memories she had with him and wishes him luck as he steps away from the soccer field.
"Thank you for the four years I had here," Howard said, "[and] for always supporting us and making sure we're having a good time. Good luck to him and whatever he decides to continue to do."