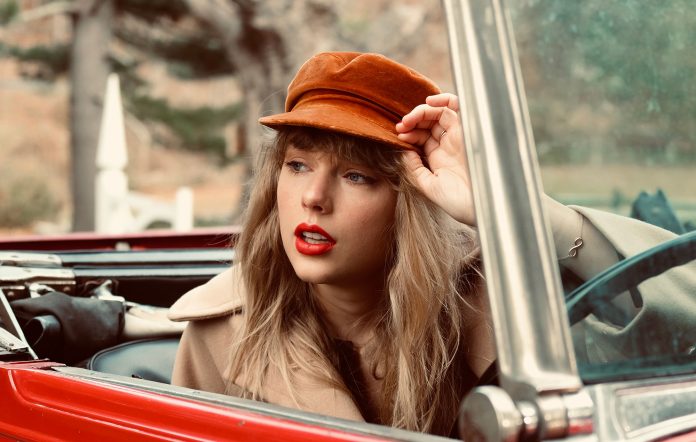 NME
"Better Man" 7/10
"Better Man" was a song originally written by Taylor Swift and given to the country band Little Big Town, but Swift recorded it and released it on her version of "Red." Even though "Red" is known as Swift's last country album, the songs on it are very pop-influenced. However, "Better Man" is pure country and a reminder of Swift's roots. The lyrics are sad, with Swift reminiscing on an old relationship she left. She sings about knowing why she had to leave her boyfriend but still regretting it anyways. 
"And I know why we had to say goodbye like the back of my hand but I just miss you, and I just wish you were a better man," Swift sings. 
The song is full of bitterness and regret, and is a heartbreaking, but great way to start the vault tracks. 
"Nothing New" 9/10
"Nothing New" is an absolutely heartbreaking track with a stellar feature from Phoebe Bridgers. It reminds me of "Lucky One" from the original album with her description of the realities of fame, but also discusses growing older in general which is something the rest of the population can sympathize with. At the beginning of the song, the lyrics talk about the criticism young women get for simply being themselves. 
"They tell you while you're young, 'Girls, go out and have your fun.' Then they hunt and slay the ones who actually do it, criticize the way you fly when you're soaring through the sky," Swift sings. 
The song then transitions into things you are "allowed" to do when you're young and how the novelty wears off as you age. 
"How long will it be cute, all this crying in my room when you can't blame it on my youth?" Bridgers sings in her verse. 
The bridge of the song talks about a young replacement who learned her way to fame from Swift.
"She'll know the way and then she'll say she got the map from me. I'll say I'm happy for her then I'll cry myself to sleep" Swift sings. 
This part is also very reminiscent of "Lucky One," except Swift is the one being replaced. The whole question of this song is "Will you still want me when I'm nothing new?" It is about fear of losing everything you've gained just because you grow old. Swift sings about time moving and being scared about her "novelty" wearing off. It is a beautiful but painfully relatable track.
"Babe" 6/10
While "Babe" was originally written for "Red," it did not make it onto the album and was given to country band Sugarland with a feature from Swift. 
The song starts off talking about Swift's boyfriend trying to rectify a mistake that he made with Swift ignoring his calls. It is later revealed during the bridge that her boyfriend cheated on her. Swift likens him to a "wrecking ball," saying that his mistake is what broke their relationship. 
The song is well-done but generic. Swift has done this topic better on "Should've Said No" from her debut album. "Better Man" and "Nothing New" set high expectations that "Babe" just falls short of.
"Message In A Bottle" 8/10
"Message In A Bottle" has a very bubblegum pop sound which is very reminiscent of "Red's" successor, "1989." It is the perfect bridge between the two albums, connecting her country and pop sounds. 
Lyrically, it is fairly basic, but it is so fun and bright that one cannot help but dance along to the beat. The song is fairly lighthearted, talking about the possibilities of a relationship but also being scared to make the first step. Swift sings about her crush being in London, which seems to be a reference to "Come Back…Be Here" from the original album's deluxe tracks. It is very cheesy, but that is what makes it work so well with the bubblegum pop sound. 
"I Bet You Think About Me" 6.5/10
After the bright "Message In A Bottle," this song is a shock to the system. The harmonica parts remind me of Billy Joel's "Piano Man," giving the song a folk-rock sound. 
"I Bet You Think About Me" is about the difference in status between Swift and her boyfriend and how it created a rift between them. Swit compares her upbringing on a farm to her boyfriend's upbringing in the luxurious Beverly Hills. She describes never fitting in with his friends and feeling like they only tolerated her. Despite this difference, Swift says she bets her boyfriend still thinks about her when he enjoys his luxuries. 
"I bet you think about me when you're out at your cool indie music concerts every week. I bet you think about me in your house with your organic shoes and your million-dollar couch," Swift sings. 
It is a solid song and the background vocals are sung by country artist Chris Stapleton. It is not one of her best songs but, like "Better Man," it is a reminder of her country roots and also a reminder that this is her last country album before she transitions completely to pop. 
"Forever Winter" 9/10
"Forever Winter" is a really beautiful song. It is about Swift's boyfriend losing interest in their relationship without her knowing. When she does finally find out, she desperately tries to fix their relationship, promising him that she will never leave.
"All this time I didn't know you were breaking down. I'd fall to pieces on the floor if you weren't around," Swift sings in the chorus. 
Later in the bridge, Swift promises she will love him forever and begs him not to leave again.
"I'd say I love you even at your darkest and please don't go," she sings. 
This song is so incredibly tragic and relays Swift's feelings of shock and betrayal when finding out her boyfriend is thinking about leaving her. It is really well done and the switch from Swift's lower register to her higher one in the chorus makes the song really sound like she is breaking down. The shift in dynamics from the beginning to the end of the bridge also makes it sound like Swift is really begging her boyfriend to stay, and it is absolutely heart-rending. 
"Run" 7/10
On the day "Red (Taylor's Version)" was released, Ed Sheeran, the feature on this track, tweeted about writing this song with Swift. 
"Run is the first song me and [Taylor Swift] ever wrote together, and Everything Has Changed was the second. We re-recorded both of them for Red (Taylor's Version)," Sheeran said. 
The song is about running away from expectations, so I cannot help but think of the similarities between this track and "I Know Places" from "1989." It seems this song is a softer version of that track. 
The harmonies between Sheeran and Swift are beautiful, they mesh together very well. "Run" does not stand out compared to the other vault tracks but it does not seem to want to. It is a whimsical song perfect for a rainy day. 
"The Very First Night" 7/10
"The Very First Night" has a similar bubblegum pop sound to "Message In A Bottle," but the acoustic guitar also reminds me of "Holy Ground" from the original album. 
Its bright and upbeat sound does not match its lyrics, which are about wanting to travel back in time to the very first night of a relationship. Swift sings about the ending of the relationship and how much she misses her boyfriend.
It is nice to have another upbeat sound with all these sad and slow songs, but I feel conflicted between the lyrics and the sound. Overall it is a good song with good lyrics, they just do not mesh well together. 
"All Too Well (10 Minute Version)" 10/10
The first two minutes and ten seconds of the song are the same as the original cut with only instrumental differences, but after that Swift dives into more heartbreaking lyrics. 
She sings about her boyfriend missing her twenty-first birthday, the age difference between them and other memories; along with the iconic scarf. There are so many memories crammed into the ten minutes, making it hurt that much more. 
We can see the entire picture of Swift's relationship, the reason they broke and how damaged Swift was following. The original "All Too Well" is bland compared to this version which is ten times more personal, ten times more tragic and ten times more agonizing.