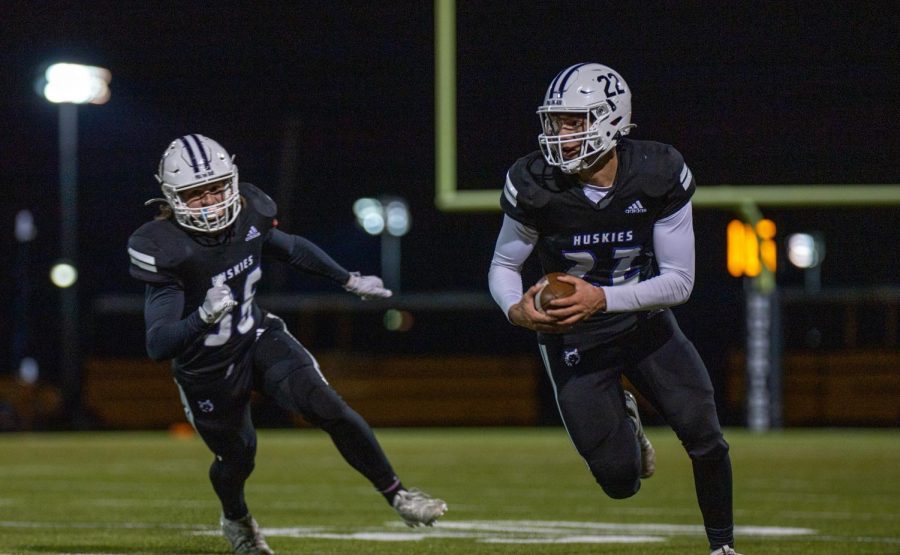 Jessica Witt
Following dominant wins over JC Harmon and Olathe South in the first two rounds of the playoffs, the Huskies faced off against Olathe North in the sectional championship. Senior Drew Kaufman said the Huskies were prepared for a strong opponent and they wouldn't take them lightly. 
"We were really locked in this week. We knew they were going to be a tough opponent. Really, this game came down to us having a great week of practice," Kaufman said.
The first quarter was a defensive showcase for both teams as the Huskies and Eagles failed to get a first down on each of their first two drives. After the Eagles' second three-and-out, senior Gavin Biancalana blocked the punt and Kaufman returned the ball to the 3-yard line, setting up a rushing touchdown for junior Grant Stubblefield on the next play. 
"Gavin's blocked punt really sparked us. It was huge," head coach Clint Rider said. "It let our offense get some points on the board with an easy touchdown and it kickstarted us and let us know we could play with these guys."
On the first play of Northwest's next drive, junior Grant Stubblefield broke through the Eagle's defense for a 91-yard rushing touchdown, extending the lead, 14-0, with 53 seconds remaining in the first quarter. The Huskies continued to dominate on both sides of the ball in the second quarter. Senior Mikey Pauley found the endzone three times in the quarter as the Huskies entered halftime with a 35-0 lead.
"It was great. It's always one of those things that is tough because you're so excited and proud of what they've done but you can't let up and it's really hard to keep focus on that. We've got to do a better job of coming out of halftime prepared and knowing that the other team is going to be fighting for their playoff life and for some of them their high school career," Rider said.
The Huskies' defense was stifling in the first half, forcing multiple turnovers on downs and punts and keeping Eagles from getting on the scoreboard.
"Our defense performed better than I would have ever expected. We pitched a shutout in the first half and I just couldn't be any happier with how we played," Kaufman said.
The Eagles came out of halftime with a quick touchdown, but the Huskies responded as Stubblefield scored his third rushing touchdown of the game. Olathe North added another touchdown on their next drive, but Stubblefield responded yet again as he sped past the Eagles' defense for a 72-yard rushing touchdown to give the Huskies a 49-14 lead. 
"It feels great to score four touchdowns, but I'm just trying to do whatever I can to help this team win. Whether I have to score touchdowns or make a block, I just want to keep winning," Stubblefield said.
Pauley added his fourth touchdown on the ground in the fourth quarter and the Eagles scored two more of their own, but it wasn't enough as the Huskies cruised to a 56-27 victory.
Stubblefield and Pauley finished the game with 208 and 68 rushing yards, respectively, and scored four rushing touchdowns apiece.
"We ran the ball great tonight. They threw a bunch of different stuff at us and our O-line adjusted and communicated very well. They were creating some big holes that helped Grant get run some big ones and me get through and get a few of my own," Pauley said.
Rider agreed with Pauley, saying the offensive line deserved a major part of the recognition for the running game's success. 
"The offensive line paved the way upfront. The hole for Grant on those two long touchdown runs couldn't have been any wider. Gabe Peterson, Aiden Behymer and Joel Deppe were creating those wide holes and Christian [Repass] and Easton [Wasinger] were doing a great job getting up to the second level and making big blocks," Rider said.
With the win, the Huskies advance to the 6A Substate Championship, Friday, Nov. 19, where they will play host to Blue Valley West, who they beat earlier this year, 21-0. 
"We're going to enjoy this one tonight. We've got a tough West team again who can't be overlooked. They're getting better and it's going to be a fun one," Rider said.