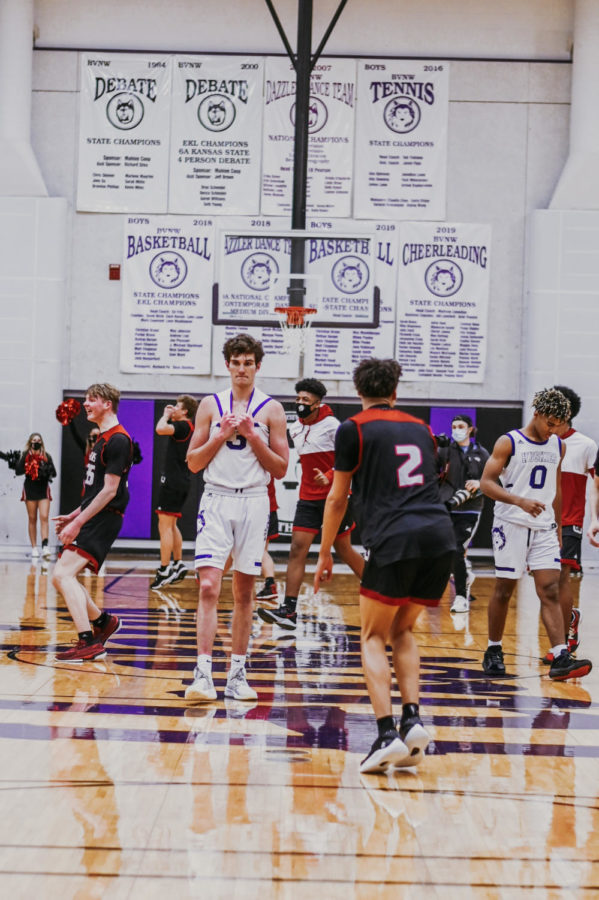 Mitri Krishna
Senior Alston Mason, who led the team with 18 points, mentioned how the Huskies struggled at the beginning, while the Lions seemed ready. 
"We started off slow and came out sluggish," Mason said. "[Lawrence] came out with a lot of energy." 
Although Northwest got off to a rough start, at one point in the first quarter Lawrence was up by eight points, the Huskies ended the first quarter on top, 15-14. 
More back and forth would occur between the two teams for the remainder of the first half, with the score going into halftime being 31-26 in favor of BVNW. 
Going into the second half, Mason said the team came out strong, but ultimately failed to do certain things to help guarantee a victory. 
"In the second half we started to pick it up a little bit, we came out on a good run and came out with good energy," Mason said. "But then it started turning downhill, they started scoring a little bit more than us, played better defense and outrebounded us." 
Despite these struggles, the Huskies maintained their lead all throughout the third quarter and into the majority of the fourth. 
However, with around 1:43 left in the game, Lawrence took the lead by one point. They maintained that lead till the end, with a final score of 52-47. 
Head Coach Ed Fritz said that despite the loss, the team has a lot to be proud of. 
"Jack Chapman has had a great career, Alston Mason has had a great career, Nick Sullivan and Ben Fritz were really special seniors," Fritz said.