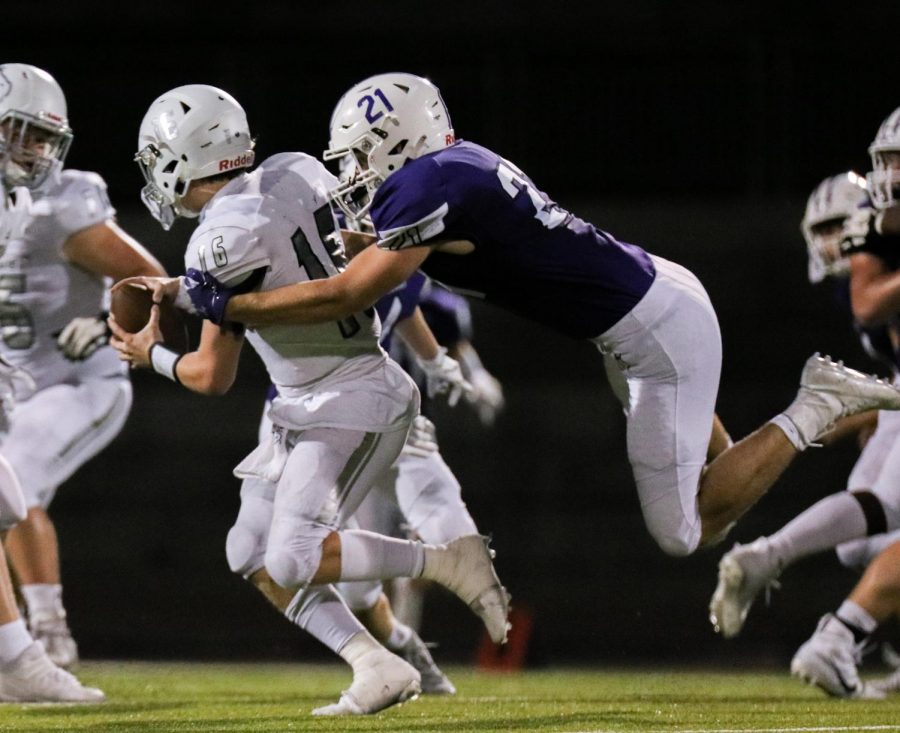 Rachel Sarff
Trailing by two scores with 3:14 left in the game, junior quarterback Mikey Pauley and the Huskies had been in this situation before. Last season, the Huskies were able to make the comeback happen against Harrisonville before defeating them in overtime. 
The comeback would start the right way when Pauley would find junior Nick Cusick for a 35 yard touchdown pass. Pauley said he was focused on getting the ball to his playmakers.
"Get the ball to the playmakers, let them do the work and it did pretty well just a little bit late," Pauley said.
Needing the ball back with 2:16 remaining in the fourth quarter, the Huskies were able to force the Mustangs into a three and out, getting the ball back with 1:49 left in the game. Junior linebacker Joe Samyn said they needed to play with more confidence from the start.
"We should've had more confidence than we did, this was a very one dimensional team," Samyn said.
Unfortunately for the Huskies, their attempt to tie the game would stall and they would turn the ball over on downs. Head coach Clint Rider said despite the defense putting them in winning position a few mistakes stalled the drive.
"The defense put us in position but we couldn't make the plays when we needed to," Rider said. "We had enough mistakes to put us behind the chains but I've got to get better, I didn't have a lot of answers in the second half."
A big reason the Huskies were needing a comeback was the result of 24 unanswered points from the Mustangs in the second half. Rider attributed the shortcoming to the Mustangs stepping it up on defense.
"That first drive we gave up seven, we dropped three or four passes in the third quarter and they did a good job taking away our run game, so it forced us to be a little one dimensional. Defensively they defended the pass and run well," Rider said.
In the first half, a big part of the Huskies offense was the big plays, as they had two 40 plus yard touchdowns. One of these went to Cusick who said he was excited to get his first touchdown.
"It was fun, it was my first touchdown and was good to give us a lead," Cusick said.
With their record now at 3-1, Rider said the team is going to go back to the fundamentals in practice to get better.
"We'll get back to the fundamentals, we'll keep getting better, we're a good team, we're still a good team, that doesn't change that and I was proud of our effort," Rider said.
The Huskies will be back in action taking on Blue Valley West on Oct. 23 at 7:00 p.m.