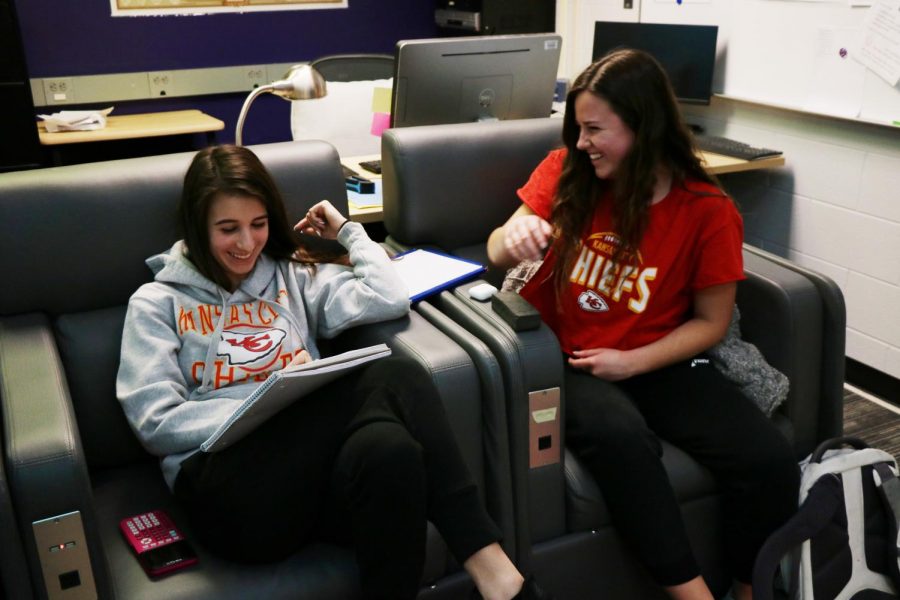 Rachel
Going into halftime, the Chiefs had just tied their lowest point total in the first half all season and star quarterback Patrick Mahomes was having one of the worst games of his career. Life-long Chiefs fan and season ticket holder Jeremy Bredemeier attributed the slow start to the team being out of sorts. 
"The first half was not the Chiefs that have played all year," Bredemeier said. "Saying that I knew we had some young talent where nerves probably kick in, knowing nerves are prominent, but we're a second half team and not a single piece of me doubted it at all."
Coming out of the half, the 49ers jumped out to a 20-10 advantage and forced a Mahomes interception with just under 12 minutes remaining in the game. The turnover struck doubt into many Chiefs fans, including sophomore Yousif Radhi, who said the team just didn't look like they wanted to play.
"On Mahomes second pick, I thought it was over because the team just looked like they thought it was over," Radhi said. "Mathieu was really mad at the team, as one of the leaders, and everyone else was in shock and we all sat down and were like 'oh s**t this could be it'."
While many fans like Radhi felt uneasy over the comeback the Chiefs needed to mount, Bredemeier said he kept believing and knew it was possible.
"Me and my dad locked eyes and we had that feeling that this was our game, the fairytale was going to end in a win," Bredemeier said.
Trying to help his team win the game any way possible, Radhi leaned on a superstition, resulting in his friends and himself changing seats in hopes it would change how the team was playing.
"I always have to wear a certain Chiefs hoodie and in the fourth quarter when we were down, me and my friends all switched seats and then we all started doing good," Radhi said.
Following the interception, the Chiefs would force a 3-and-out, which would go on to spark a 21-0 run over the final eight minutes of the game to become Super Bowl champions, 31-20. After waiting for this moment for his entire life, Bredemeier said the emotions are unlike anything else.
"The rush of emotions was indescribable, our whole family was surrounded by good friends that know how much dedication and hard work we put into this team," Bredemeier said. "You know as soon as I broke down in tears, my sisters did too and our family we found each other in the chaos that was my house and just hugged for five minutes straight. It was so much relief and the feeling of indescribable happiness."
One of the main reasons the Chiefs have had one of the most successful offenses in the league is due to the coaching of Andy Reid. Head football coach Clint Rider said he admires the ways he feeds his playmakers.
"I think it's the multiplicity of ways that they get their playmakers involved," Rider said. "Each player has a subset of things that they'll use them for."
Having a sleeping baby at home, Rider said he found it difficult to keep the emotions in.
"I jumped up and had to bring my knees to my chest. We had to quietly scream because my baby boy is five weeks old and sleeping, so I couldn't yell," Rider said. "I ran and opened the back door and ran outside and just started screaming."