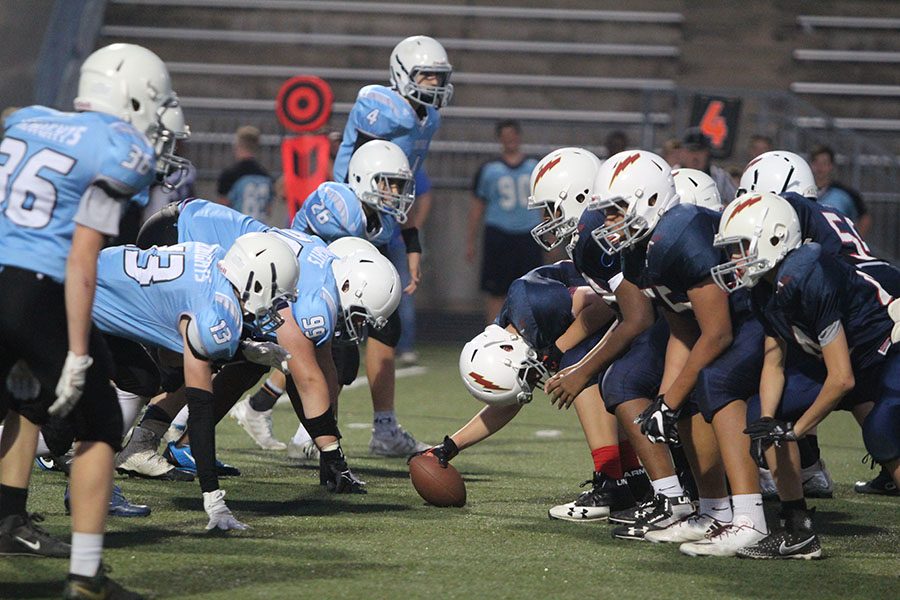 TJ Vore
As time ticked down in the fourth quarter of Tuesday night's Harmony-Oxford football feeder game, Oxford kicker Gavin Biancalana converted on a 35 yard field goal attempt which proved to be the game-winner in a 10-8 Knights victory.
Prior to the conclusion of the first half, Mikey Pauley picked up a blocked Thunderbird field goal attempt and returned it for a touchdown, giving the Knights a 7-0 lead entering halftime.
With 3:45 remaining in the third quarter, the Thunderbirds took an 8-7 lead after a 45 yard catch-and-run by HMS running back Josh Cusick. Harmony head coach Curt Alderman said despite the 10-8 loss for HMS, he was impressed by the performance of the Thunderbirds under the bright lights of the DAC.
"What I learned from our players is that when they get out here under these lights there's nothing like it," Alderman said, "they all want to perform better for these coaches and I think if they all stay together they are going to do something really special [at Northwest]."
Oxford head coach Ryan Vickery said playing the game at the DAC was a great experience for the Knights, and something he looks forward to in years to come.
"It's a great experience for them," Vickery said. "They get to see what's next to come and to be a Husky."
Blue Valley Northwest head football coach Clint Rider said the combination of talent in the two teams was exciting to see on display Tuesday night. Rider said with a trend of former Oxford and Harmony players transferring to other schools, the idea was presented to him to play the game at the DAC to create more buzz towards BVNW football.
"It wasn't my idea to have the game [at the DAC], but we just wanted to make this a really good experience for these kids because eventually they are going to be our kids," Rider said. "Obviously we've had some issues with kids going to some other places so we gotta get the message across that they matter to us we care about them and that we wanna create something really special for them."