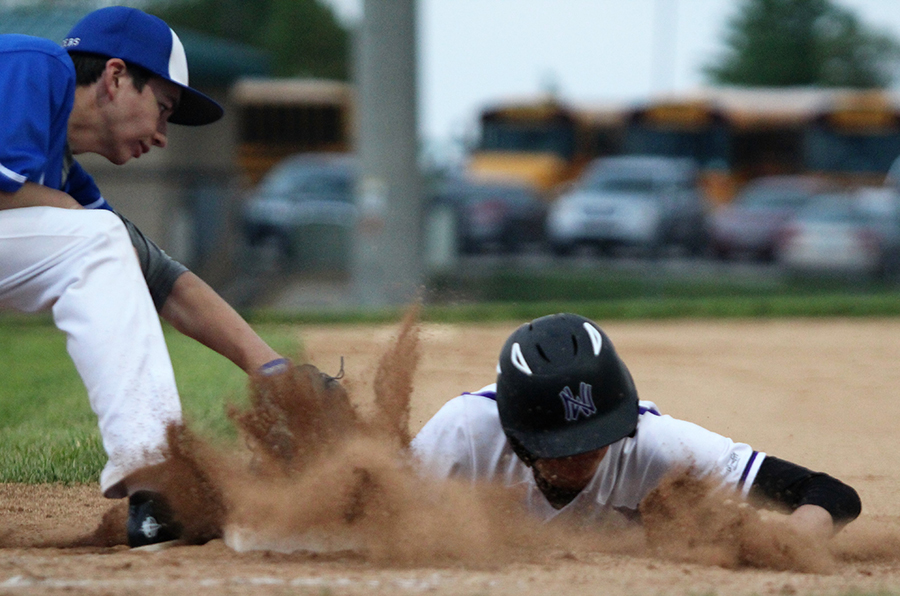 TJ Vore
The varsity baseball team earned its 12th victory of the season, in a 5-1, senior night victory over Gardner Edgerton High School Thursday May 11. For the second time in a week, junior Drew Black earned the victory on the mound for the Huskies.
Despite only pitching when the rotation was thin early in the season, Black said it was good to see the trust the coaching staff had in his abilities on the mound.
"It means a lot, showing that my team really has the trust in me," Black said. "It makes me want to go out and get the guys out I'm facing."
After the Huskies starting pitcher, junior Max Abramovich was relieved in the third inning of Thursday's game, Black backed up Abramovich with 3 innings of relief, allowing just 2 hits, and 1 run while striking out four Blazer batters.
The Huskies offense provided a spark in the bottom half of the second inning, with four runs scored in an inning that saw an RBI single from senior Jacob Sula, followed by a 2-run single by senior Connor Ellefson, and another RBI single off the bat of junior Josh Fiene. Ellefson said despite having an important 2-run single, the bats coming alive together was the real key.
"It definitely felt good coming off the bat," the senior catcher said. "But there were five other runs [tonight] that were a big part of [the offensive output]."
Senior Riley Zerni, continued his success from the leadoff position with a 2-for-4  performance, with both outs made on hard hit line drives to the GEHS second and first basemen.
"The ball looks like a beach ball right now," Zerni said. "I feel like my at-bats have been smooth and I'm seeing the ball really well."
For a Huskies squad that began the year 2-5, the ability to respond to adversity was well on display for much of the season. Head coach Corby Lange said much of the success can be attributed to the makeup of the team.
"It's easy to continue to work hard and be excited and play well and have confidence when the record and scoreboard works out," Lange said. "It's a lot harder when you start 2-5 to realize it still can come together and to see the big picture that still can happen. To those kids credit, they never stopped believing that it was going to come together and it has come together."
The Huskies, who have yet to have an opponent announced for next week's regional, said they felt good heading into postseason play, coming in with a 10-3 record in their last 13 games.
"We're coming in hot, and we're really clicking now," Black said.
Lange added that postseason success would come down to three things.
"Everybody's got to do their job and not try to do more than their job," Lange said. "[We] need to be able to overcome some sort of adversity, one bad inning sends most teams home unless you can get back up off the matt and keep throwing punches… and we need to be just lucky enough to get ourselves through."