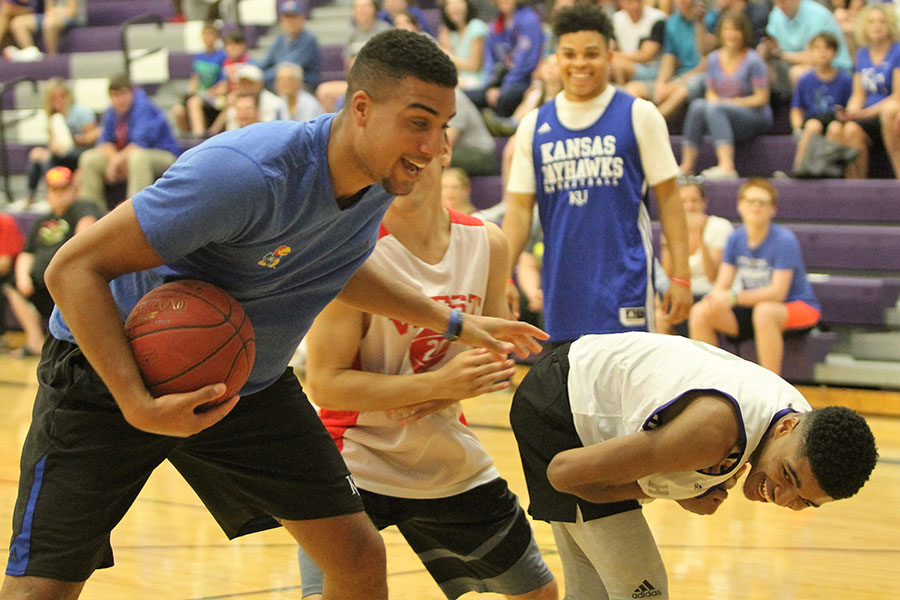 TJ Vore
The Kansas barnstorming tour visited Blue Valley Northwest on Saturday night, as University of Kansas graduates Frank Mason, Landen Lucas and Tyler Self went up against a cast of EKL all-stars.
Mason, Lucas and Self were joined by BVNW senior football player Daeron Robinson and BVNW assistant basketball coach Luke Laser. Despite a lack of basketball experience, the KU alumni team fed Robinson for countless 3-point attempts throughout the night.
For Robinson, he said being called on to play helped him come to a realization.
"It was really nerve-racking," Robinson, who finished with 9 points for the game said. "To be honest, I wasn't expecting to get the ball a whole lot, but I got a couple of threes and I was really happy with that. It was really awkward out there. You know, I'm not a basketball player so I just need to stick to football."
The former Division II HIllsdale College player, Laser, added 17 points for the KU alumni effort, punctuated by a driving reverse two-handed dunk which caught senior guard Darien Jackson off-guard.
"I didn't know he had so much bounce," Jackson, the 2017 Kansas 6A player of the year said. "I knew coach Laser was a good player, but I didn't expect all that bounce from him."
Senior guard Jamicheal Morgan said he refused to believe the dunk could even possibly be coach Laser.
"Coach Laser is not good. That wasn't even coach Laser, that was a man in a body suit."
After being informed about Morgan's comments about his play and athleticism, Laser said his play was far below the normal during his collegiate playing career at Hillsdale College.
"I'm old and washed up now. But back in my day…," Laser trailed off.
Early in the first half, Mason, who earned National Player of the Year honors throughout media outlets in college basketball, began the game with 3 consecutive made 3-point baskets. Mason said he has enjoyed being a part of the barnstorming team this year, and the tour provides a great opportunity to give back to the fans.
"It's great to come out to different cities and interact with the fans," Mason, who scored 34 points for the game said. "I think it's really good that they get to see us in person instead of on TV. I think it's just really good to come out and play with my teammates."
Lucas said he was grateful to be able to have the luxury to show support to the Jayhawk fans from around the state, giving them the ability to see something that would be different than their typical experience. Multiple times throughout the game, Lucas pulled young fans from the crowd and gave them opportunities to score. 
"[I was] just making it more of an intimate setting," Lucas said. "I know a lot of people maybe have come to a game at [Allen] Fieldhouse or something, and that's fun and a different feeling, but to really feel a part of it is a different level and we try to bring that to the barnstorming tour."
Morgan said watching KU games on TV fails to show just how talented the members of the KU team are in person.
"[It's a] totally different game," he said. "You think you see their moves on TV and it's like 'oh, I could do that.' No chance. Their moves are way better in person."
Despite leading at halftime by a score of 61-40, the KU alumni squad fell apart in the second half, as they found themselves trailing 90-81 with 2:27 remaining in the second half. After cutting the deficit to 90-87 with multiple offensive rebounds by Lucas, Mason squared up and fired a 3 at the buzzer which ended the contest in a 90-90 tie.
Mason said even though much of the game was free-flowing and with very lackadaisical defense, at the end of the day, that was what fans paid for.
"I think it's good entertainment for the fans and that's what they wanted to see."