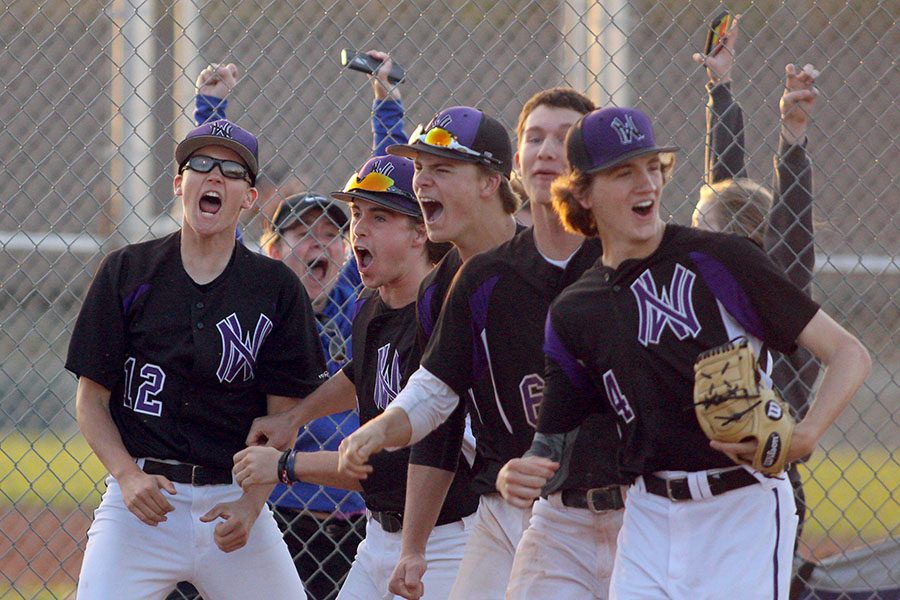 Jack Oxley
Coming to the plate with the go-ahead run, senior Jacob Sula, standing at first base with two outs in the seventh inning, senior Drake Marker had one goal in mind.
"Just trying to hit a line drive to right-center," Marker said of his typical hitting approach, which he applied as usual to this at-bat.
Marker did not come to the plate with the goal of being the hero in mind. But that was exactly what he did. With a 2-1 count, Marker got a fastball that he could handle, and deposited it into the grass beyond the left-center field wall, giving the Huskies a 7-5 lead.
"I got a pitch middle-in, right in my wheelhouse, and just let it fly," Marker said. Upon seeing the ball fall on the other side of the fence, Marker looked on in disbelief. "I was like 'oh my gosh that's crazy'. It was just surreal."
The Huskies were able to jump out to an early 2-0 lead in the first inning, behind an RBI double from senior catcher Connor Ellefson, and later in the inning a bases-loaded walk from senior Johnny Sprinkle. However, BVNW stranded 3 runners on base to end the inning, before going quiet.
BVNW ran into trouble in the BVHS half of the third inning, as the Tigers were able to score five runs off of BVNW starting pitcher junior Will Dennis. Dennis, fought to get 2 outs in the third inning before handing the ball to junior Max Abramovich. Dennis left with a final line of 2 ⅔ innings, 5 strikeouts, 4 walks, 6 hits, and 5 earned runs.
Lange said even though Dennis did not have his best stuff on this day, it was crucial for him to fight and have some damage control in the inning.
"I think Will battled too," Lange said. "I think that he didn't have his best stuff and he'd be the first to say that, but when I went out and talked to him the first time, I talked about trying to minimize damage control. At that point there was a sixth run and a seventh run on base, and he got us an out there. But Max coming in and finishing that inning, and leaving those guys stranded, that was huge."
Abramovich picked up Dennis and dazzled, pitching 4 ⅓ innings of scoreless baseball en route to earning the pitching victory for the Huskies, his second of the season.
Sula, who led the Huskies going 2-2 with 2 runs scored and 2 walks, said the team was not discouraged by the early deficit.
"To be honest it really wasn't any negative mentality in the dugout, we were just out here playing baseball and having fun."
Abramovich's stability on the mound held the Tigers lead at 3 before the Huskies scored 3 in the top of the fifth inning. Sula doubled to score junior Josh Fiene, and after a Sprinkle strikeout junior Holden Missey pinch-hit for Marker. Missey knocked an RBI single to right field, scoring junior Drew Black. Sula would later come around to score on a BVHS passed ball, tying the game at 5.
Despite Marker's spot in the eight-hole in the Husky lineup, head coach Corby Lange said he is one of the most trustworthy BVNW hitters, and he was not surprised at all that he was able to rise to the occasion.
"Drake is one of our hardest workers," Lange said. "He always has been. He's usually the last guy to leave the cage every single day after practice, and so it's no surprise that a guy like that comes up confident and prepared, and then gets the job done."
With the win, the Huskies move to 2-3 (with a game to still be completed against Blue Valley North). The Huskies next game is Saturday April 15 at the DAC against the Lancers of Shawnee Mission East.