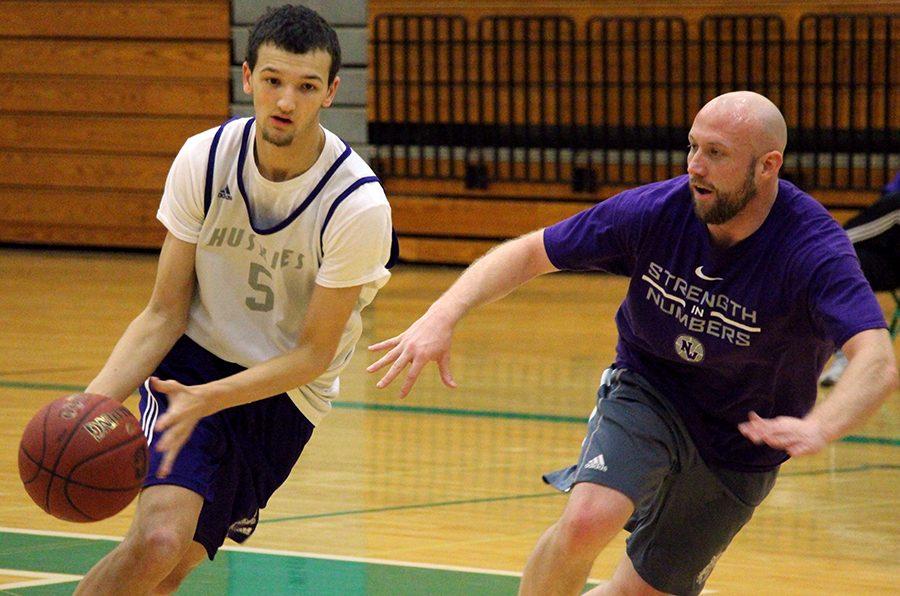 Jack Oxley
WICHITA- Heading into the state championship game Saturday March 10, the Huskies match up with the Lawrence Chesty Lions, who enter with a 17-7 record after defeating Blue Valley North in their state semifinal game, 41-36.
BVNW comes into the matchup with a 21-3 record and riding a 10-game winning streak.
With 6-foot-7 Lawrence High forward Kobe Buffalomeat manning the painted area tonight, it'll be key for junior forwards Parker Braun and Joe Pleasant to stay out of foul trouble, something that has been an issue at times this season. The Illinois State University football commit contributed only one point on Friday, as Buffalomeat played sparingly against BVN as he was sick.
Senior guard Darien Jackson is averaging 18 points per game in the state tournament, but as seen in the Huskies state semifinal win over Lawrence Free State-when BVNW had four players score in double-figures- the Huskies offense has plenty of dangerous options something senior guard Jamicheal Morgan said is important to their success tonight.
"We've got to play hard, play well and play together," Morgan said of the keys for a BVNW state championship game win.
In the Lions victory over BVN Friday, they trailed 13-2 only two and a half minutes into the game before settling in against the Mustangs. LHS went on a 21-4 run after trailing early, showing it'll be important that if the Huskies get off to a fast start in tonight's title game, the Huskies keep their foot on the gas.
The Huskies easily won their first two games in Wichita, and are focused as the No. 1 seed.
"We want to take it all for our seniors," Braun said.