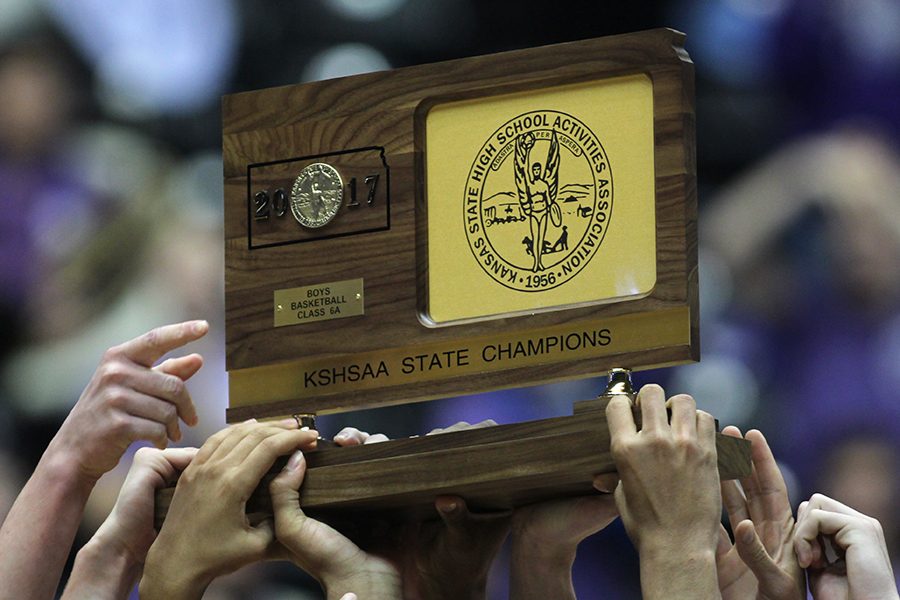 Jack Oxley
With 18.4 seconds remaining in the fourth quarter, senior guard A.J. Pleasant stepped to the free throw line with the Huskies clinging to a 62-61 lead. Pleasant, scored 16 points on the night, but said no two points were more important than his final two free throws.
"I just thought there were two ways this could end," Pleasant said. "Either make these and we have a better opportunity to become a champion, or miss these and it's the other way around, and I did not want that to happen."
Pleasant toed the line with the Huskies missing their previous five free throws in the quarter, and hit nothing but net on both of them. After making the free throws, Lawrence sophomore guard Clarence King took the inbound pass and elected to go for a quick two; driving coast-to-coast before junior forward Parker Braun swatted his layup attempt out of bounds.
With 5.5 seconds left, the Lions inbounded the ball underneath the basket and sophomore forward Brett Chapple missed a point-blank layup. The ensuing rebound was fumbled out of bounds by junior forward Joe Pleasant with 3.4 seconds left, giving the Lions one last chance.
"It was really scary," senior guard Darien Jackson said, as the Huskies needed one stop to win the state championship. "I had faith in my team and I knew that when it comes down to stuff like this, we can handle it."
A.J. said he was just hoping the Lions would not be able to get a shot off on their last possession, and it turned out they would not. The inbounds pass with 3.4 seconds left was dropped out of bounds with 0.4 seconds left, and the Huskies state championship win was a formality.
King said no matter the disappointment, the loss was something that he would have to forget about.
"You really can't do nothing about [the missed opportunities to end the game]," King said. "You just gotta let it go."
BVNW and LHS went tick-for-tack in the first quarter, exchanging baskets for much of the first frame, with the score 16-15 in favor of the Huskies.
"You could just tell it was a championship game [early]," A.J. said. "Everybody was really into it, energy is high, and it's not like we had bad energy, they were just matching ours so we had to figure out a way to stop that."
It was not until late in the second quarter where the Huskies exerted their dominance. A strong drive from senior guard Jamicheal Morgan with 3:36 left in the half gave the Huskies as 27-25 lead and began the Huskies scoring avalanche.
On the very next Huskies offensive possession, Jackson drove the lane, was stripped and fumbled the ball before picking it up again, dishing it to sophomore forward Jacob Clark before getting it back and knocking down the corner 3.
BVNW continued from there, going on an 18-0 run to end the half with a 43-25 lead. A.J. said as is usually the case, when the Huskies defense was clicking, the offense ran smoothly as well.
"[Head coach Ed] Fritz has said since day one," A.J. said. "Locking up our man, and defense will create offense, that's what we know."
Jackson scored 20 points in the first half in what was one of the best performances Fritz said he had ever seen.
"I thought Darien played as good a half of basketball as I've had anyone ever play," Fritz said of Jackson's 7/8 from the field in the first half.
"It was my last game at Northwest, my last game playing with my best friends, and I wanted to make the best of it," Jackson said.
In the second half, Lawrence High opted for a box-and-one defense, locking down on Jackson's offensive production and holding him to six points in the second half. In the fourth quarter, LHS began chipping away at the Huskies lead, cutting it to single-digits two and a half minutes into the final quarter.
"We kind of got tight, playing not to lose instead of to win," Fritz said.
Down the stretch, the Huskies said the game tightened up on them as they missed countless one-and-one opportunities.
"We didn't want to choke," Jackson said.
"You could just tell the nerves were coming into it and we thought it was slipping from us," Braun said. "But A.J. came in with those two clutch last [free throws]."
But after A.J. Pleasant's late free-throws and 18.4 seconds of staunch defense, the Huskies pulled out their third state championship in the last five years. Despite being outscored 27-12 in the fourth quarter, BVNW held on for a 3-point victory, but Fritz said the score is not what will be remembered.
"No one is going to remember the score," Fritz said. "They're going to remember that you won a championship, and that's all I care about."