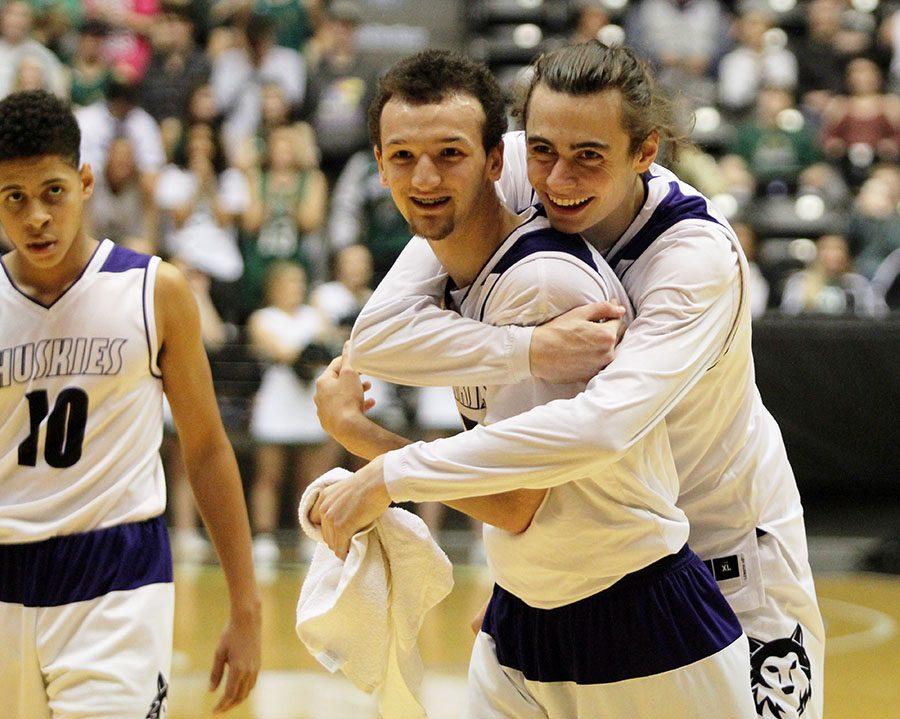 TJ Vore
For the fifth straight game, the No. 1 seed Huskies led from start to finish, defeating the No. 4 seed Free State Firebirds, 67-40. BVNW came out on fire offensively, jumping out to a 12-4 lead with 2:27 remaining in the first quarter.
The Huskies hot start was marked by a 57.1 percent overall shooting percentage and 60 percent 3-point percentage in the first quarter, giving them a 20-8 lead. Senior guard Darien Jackson capped off a flawless first quarter taking a pass from fellow senior guard Jamicheal Morgan to rise and fire for a 3-pointer as time expired in the quarter.
"I thought we came ready to play," junior forward Parker Braun, who scored 10 points said. "The coaches had a great game plan… and I thought we just wanted it more than them, had a good game plan and executed it well."
With 2:50 left in the second quarter and the Huskies leading 31-15, Morgan stepped into an open three from the top of the arc and knocked it down, sparking an 11-0 run to stretch the Northwest lead to 42-15. Junior forward Joe Pleasant said that the offensive excellence on display was highlighted by that run.
"That just shows that we have numerous people that can score on any given night," Pleasant said, as the Huskies had four players in double-digits for the game. "When we all share the ball, everybody's going to get their shots up and it's just fun to watch."
BVNW held firm control of the game for the entirety of it, but the first half of this state semifinal was arguably the best all-around half of basketball the Huskies have played all season.
"This was probably one of the closest games to having us be [at our maximum potential]," Morgan said.
Along with their great offense, BVNW held Free State in check all night defensively. No Firebird scored in double-digits, and Free State shot only 26.1 percent from the field, in large part due to BVNW's hounding defensive presence.
After winning the substate final over Gardner Edgerton a week prior, Jackson, Morgan and senior guard A.J. Pleasant each spoke highly of the Huskies maturity-of which they each said had improved vastly this year. With their play this week in Wichita, this 21-3 BVNW squad has proven those words to be true.
"The guys were really focused," head coach Ed Fritz said. "We've been down here since Wednesday, they've been nothing but professional. Studying tape, studying tendencies of other teams, working on our sets, being great teammates. We've got to try to lock in and do it all one more time."