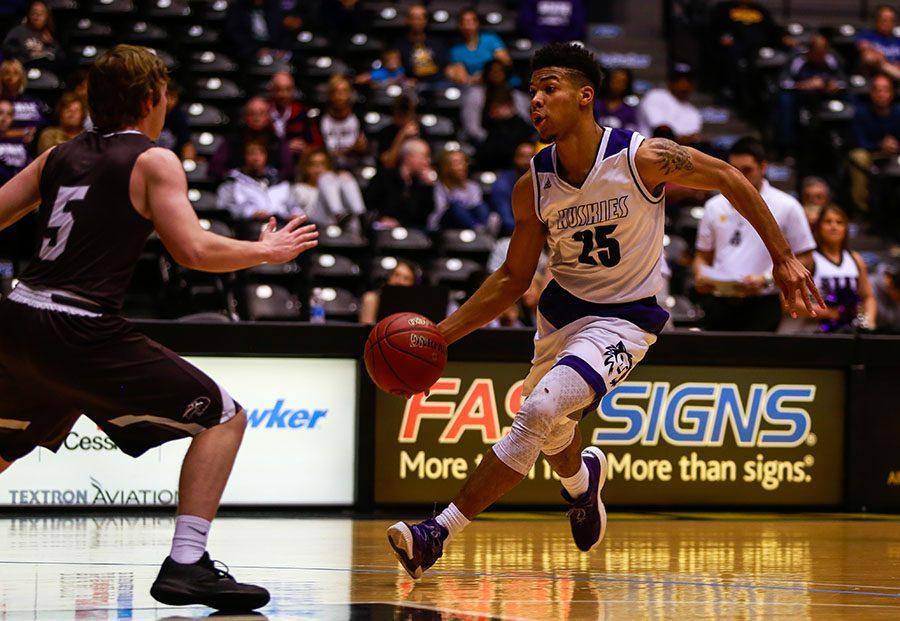 Justin Lehtinen
In the early minutes of the state quarterfinal matchup between Blue Valley Northwest and Garden City, one thing was clear. The Huskies interior size was too much for the Buffaloes to handle, as junior forward Parker Braun slammed a baseline dunk off of a feed from senior guard Darien Jackson.
"We knew that it was a mismatch all day," Jackson said of the Huskies early interior domination.
Jackson stole a GCHS pass on the defensive end and raced down the court for a dunk of his own, and only 30 seconds into the game, the Huskies led 4-0. After extending their lead to 10-2 with 4:38 remaining in the first quarter, BVNW went away from what was working so well for them. After abandoning the inside scoring, more problems presented themselves for the Huskies.
"I thought we quit going inside," head coach Ed Fritz said. "We were watching the ball a lot and while we were watching the ball, they were back cutting us to the basket. We got beat about five or six times like that so we've got to do a lot better."
Garden City junior guard Garret Doll said even though BVNW presented plenty of issues, the Buffaloes were unable to take advantage of the opportunities presented to them.
"We knew they'd be tough," Doll, who scored a team-high 14 points on 5/12 shooting from the floor said. "We shot the ball well especially in the first half, but I think in the second half we should've shot it a little better, and given ourselves a chance at the end."
Garden City had plenty of success in the first half offensively, shooting 50% from beyond the arc, but senior guard Jamicheal Morgan said the Huskies had lots to learn from their defensive performance, or lack thereof.
"The lack of attention we had away from the ball and how lackadaisical we played away from the ball [was disappointing]," Morgan said.
For as disappointed as the Huskies were with their defense, there were plenty of bright spots on the night. Led by Jackson who scored a game-high 22 points on an extremely efficient 8/9 shooting, the Huskies shot 67.4% from the field as a team.
BVNW distanced themselves from GCHS in a three-minute stretch to near the end of the third quarter, pulling away after an 11-0 run to extend their lead from 42-34 to 53-34. That run to end the third quarter finished off any hopes GCHS had of mounting a comeback, and handing them a season-ending 12th loss.
With the win, the Huskies move to 20-3. The Huskies will play in a state semifinal matchup against Free State on Friday March 10 at 8:15 p.m.