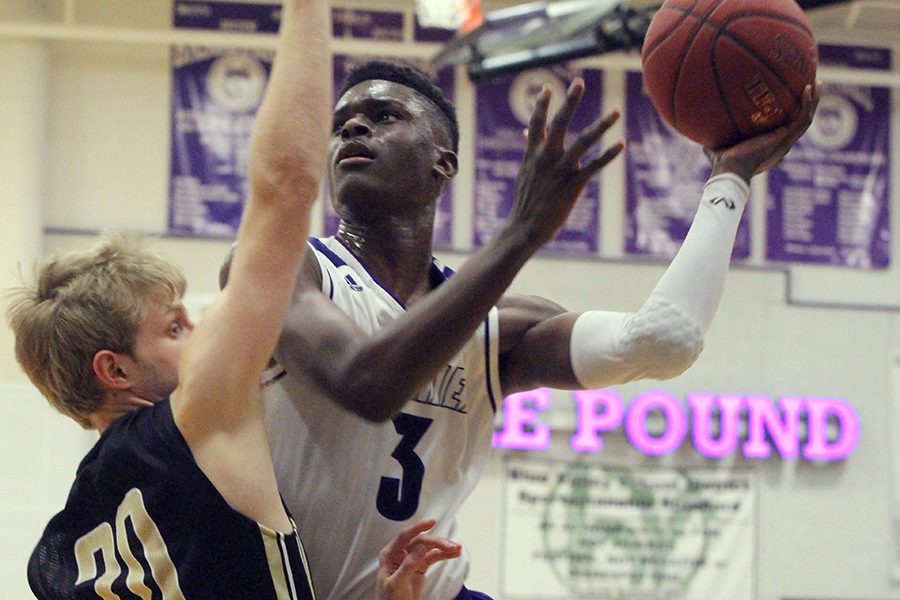 Olivia Rigdon
With 3.7 seconds left in the fourth quarter, junior forward Joe Pleasant stepped to the free throw line, with Blue Valley Northwest leading Blue Valley, 66-63. The younger Pleasant had to make up for his eldest brother, A.J. after A.J. missed two free throws the possession before.
"I was just thinking 'I do this every day in practice'," Joe said of the free throws which contributed to his nine points on the night. "It's just natural. It's what I do."
Joe's free throws gave the Huskies a 68-63 win on senior night, a night where senior guard Willy Pegues was given his first start of his career. Pegues came out hot, hitting his first of two threes with 5:34 left in the first quarter.
"It was just a good environment," Pegues, who scored eight points said. "I felt good during warmups and after I made my first three I just felt hot the whole time."
Pegues' three gave BVNW a 7-4 lead, a lead which they would never give up, never trailing at any point of the game. Head coach Ed Fritz said Pegues provided a huge spark for the team.
"He's a good player and I wish there was more opportunities [for him to play], but he gave us a huge lift [tonight]," Fritz said. "The crowd loves him. All the guys on the team love him, and the coaching staff loves him. So I was really happy for him to contribute like that."
Joe said the defense was key tonight against a BVHS team that can shoot the ball extremely well.
"They're a force offensively," Joe said. "You just have to stay awake and stay aware at all times."
In dealing with last year's EKL Most Valuable Player, Blue Valley senior guard Tyler Geiman, Fritz said he felt the defense was spectacular.
"I think we were pretty scrappy [against Geiman and Blue Valley's shooters," Fritz said. "He got us on a couple deep [threes] but he's a really good player."
Senior guard Darien Jackson put on his typical fantastic night of work. Jackson scored a team-high 20 points, including a slam off of a between the legs pass from junior guard Sam Ward late in the third quarter.
While Ward was held to only six points on the night, his passing excellence was on full display, feeding Jackson and senior guard Jamicheal Morgan for dunks.
BVNW's win secured a No. 1 seed in sub-state play, ensuring at least one more home game for the Huskies. Blue Valley Northwest moves to 16-3 with the win. The Huskies face the Thunder of St. James Academy next Friday, Feb. 24. Tip-off is at 8 p.m.