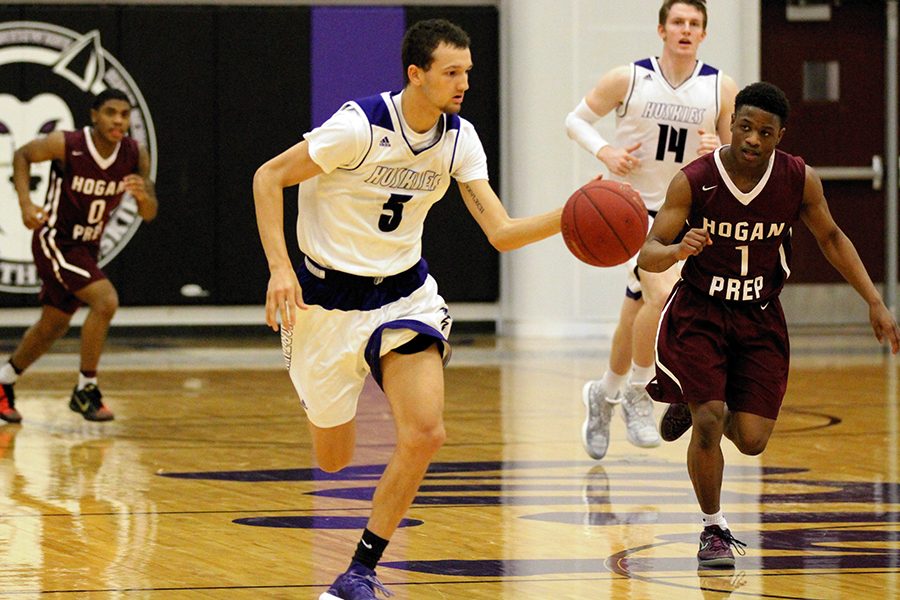 Nicky Lentsch
Junior guard Sam Ward squared up to shoot off a pass from senior guard A.J. Pleasant and knocked down a three point basket from the right corner to give the Huskies their first points of the night against Hogan Prep. That three gave Ward an early start to a career night, as he finished with 21 points.
The Huskies countered the Rams zone defense by hitting eight threes on the night, led by Ward with five threes for himself.
"Really I was just moving the ball," Ward said. "Then by moving the ball shots are created and I just took advantage of them."
Ward's performance provided glimpses of brilliance, along with some head-scratching plays captured by missed layups and defensive lapses. Head coach Ed Fritz said Ward's upside is clear.
"Sam gives us a different dimension than everybody else because he can shoot the ball," Fritz said. "We ride him when he can hit them, and when he's not hitting them we kind of go to somebody else. If he picks his defense up, he's going to be one hell of a player."
Junior forward Joe Pleasant glowed when speaking about Ward.
"Sam can really let it fly," Pleasant, who added 15 points of his own said. "Whenever I've got the ball and I see Sam open I make sure to give it to him because I know he's going to hit the open three and we all have faith in him to hit it."
Leading 11-8 with 3:45 remaining in the first quarter, BVNW ended the quarter on an 11-0 run. From that point on, the Huskies continued their offensive outburst with senior guard Darien Jackson putting in 19 points.
BVNW goes on the road to face Mill Valley, tomorrow night at 7 p.m. Jackson downplayed the significance of playing four games in five nights, saying "we feel good. We know [four games in five nights] should get us ready for state because we know we play back-to-back-to-back, so we better get used to it."