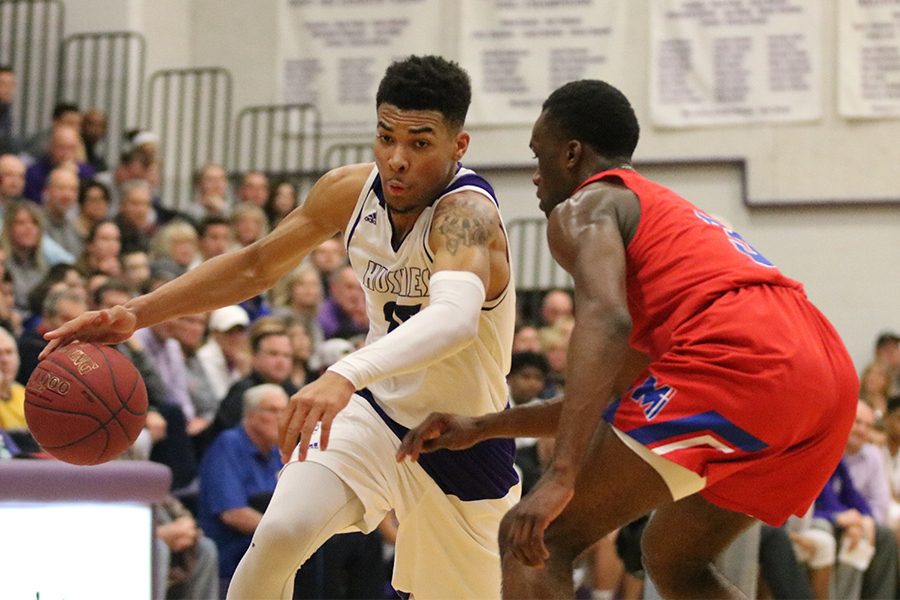 Madi Allen
Late in the third quarter of Tuesday night's Eastern Kansas League battle between Blue Valley Northwest and Bishop Miege, BVNW trailed BMHS, 48-52. Senior guard Darien Jackson raced down the court, lobbed up an alley-oop pass to fellow senior guard Jamicheal Morgan that was too high for Morgan's outstretched arms, leading to a Stags fast break layup.
BVNW head coach Ed Fritz said that missed opportunity really hurt the Huskies comeback chances.
"We were down four and we had a two-on-one, and we just made a stupid play," Fritz said. "We had a chance to cut it to two at the end of the quarter. We miss it, bad play, they get a layup, then we come down and we miss a shot, and they scored there in the corner. So instead of being a one possession game, it was seven or eight points."
The Huskies came out of the gates hot, outscoring the Stags 22-18 in the first quarter behind junior guard Sam Ward's three point shooting prowess. Ward scored 17 points in the contest, including five made three pointers.
"We were just moving the ball well," Ward said. "It's just like, you've gotta go [get your shot]. I mean, obviously I'm about the team, but if somebody else is hot I'm gonna give them the ball so they can shoot it themselves."
Fritz said one of the Huskies biggest issues was rebounding, allowing Bishop Miege sophomore forward Jeremiah Robinson-Earl to grab countless rebounds and convert on second chance opportunities.
"We just got really, beat bad on the boards," Fritz said. "They had eight offensive rebounds in the first quarter and it's just hard to combat guys with two or three shots."
With the loss, BVNW falls to 11-3 on the season. The Huskies travel to Blue Valley West to face the Jaguars, Friday Feb. 10 at 7 p.m.