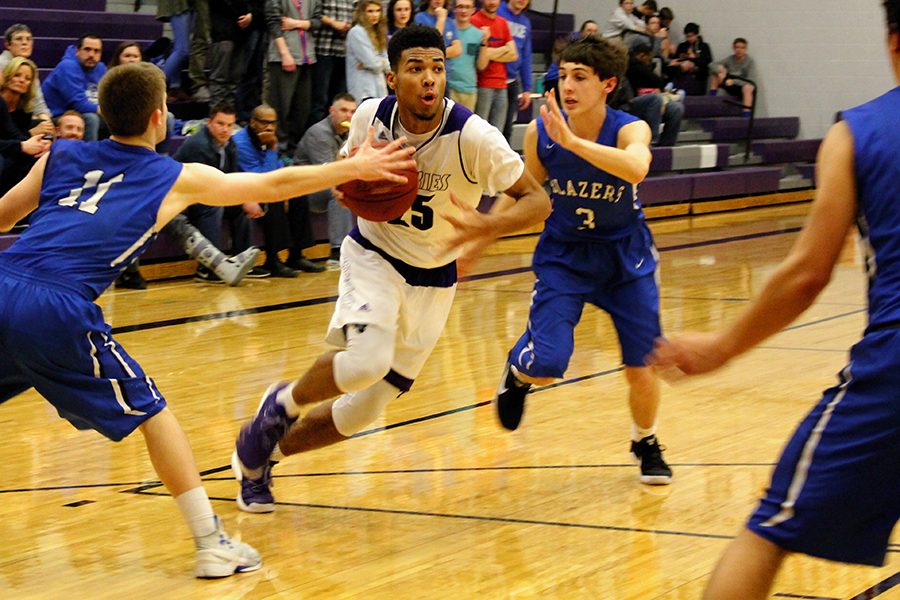 Livia Lambrecht
The boys varsity basketball team dismantled Gardner Edgerton, 75-38, in a Tuesday night contest at BVNW. After the Huskies' loss the week before against St. Thomas Aquinas, head coach Ed Fritz removed senior guard Darien Jackson from the starting lineup, replacing him with sophomore guard Christian Braun.
Despite coming off the bench for the first time all season, Jackson still finished with 16 points.
"It didn't really change my routine," Jackson said. "I just was trusting my teammates and coach wanted to change the offense."
Fritz said the move was made to try some new things as well as send a message to the team.
"If you're willing to not start an All-State player who's got about 30 Division I offers, maybe they got the message that I can do that with other guys," Fritz said.
The Huskies trailed the Blazers 4-11 with 1:58 left in the first quarter before Fritz called a timeout. After the timeout, the Huskies went on a 12-0 run which included a three point basket from just inside the half-court line from Jackson to knot the score at 11 after the first quarter.
Fritz said BVNW's slow start could be attributed to trying some new things offensively.
"We just kind of did some things new tonight, and it kind of took a while for it to click," Fritz said.
Junior forward Parker Braun scored a team-high 18 points, including a dunk over a GEHS defender prior to the half. Parker said being in position for his dunk was all about running the floor.
"[Darien] and all of them were just running the floor really well," Parker said. "They were looking for me, I was trying to find open the spot and they were just passing the ball really well."
Blue Valley Northwest plays Blue Valley Southwest Friday Feb. 3 at BVNW in the Sweetheart game. Tip-off is scheduled for 7 p.m.