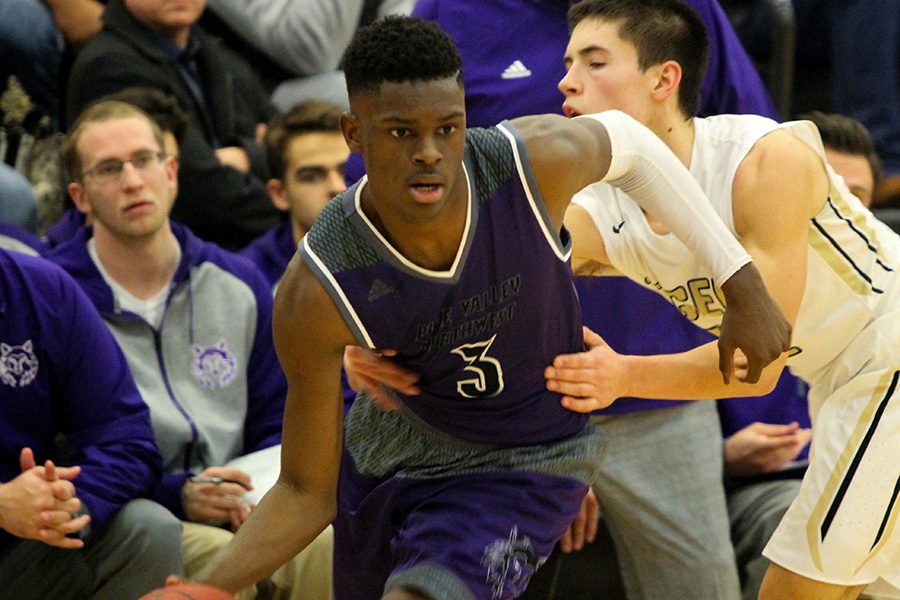 TJ Vore
In their first game back in action after the break, the boys varsity basketball team defeated Blue Valley High, 65-56. Junior forward Parker Braun was troubled with early foul trouble in each of the two halves, holding him to eight points. Braun picked up his second and fourth fouls of the game near the 3:30 mark of the first and third quarters, respectively. Head coach Ed Fritz said Braun's understanding of how to play with fouls was something that could come with more playing experience.
"[Braun]'s gotta learn how to play [with foul trouble]," Fritz said. "When you have three fouls you can't leave your feet, you gotta just stay down. He's big enough to build a wall where they have to shoot over you… but the thing that's kind of cool is we've got a lot of guys… so we were able to kind of hold the fort until Parker was able to get back to us."
Blue Valley High senior guard Tyler Geiman scored 14 points for the Tigers and presented plenty of issues for the Huskies defensively throughout the game. Northwest senior guards Darien Jackson and Jamicheal Morgan each said Geiman and the rest of Blue Valley's outside shooting attack presented different issues for them.
With 1:50 remaining in the second quarter and BVNW trailing BVHS, 26-30, Jackson drove to the lane hard for a vicious one-handed slam signaling a turning point for the Huskies at both ends of the court. Jackson said from that point on the team made a defensive adjustment, guarding BVHS more tightly on the perimeter.
"[You've got to] keep your hand up the whole time," Jackson said.
While Morgan echoed Jackson's sentiment, he also added that he thought he could have limited Geiman with a better defensive effort in the first half.
"I think I could've locked in better on him and held him to less points, but he had a pretty good flow of the offensive game," Morgan said.
Senior guard AJ Pleasant contributed 13 points in the contest, in what proved to be largely a group-wide scoring effort for the Huskies. Pleasant said despite not typically being a main scoring option, he did not do anything out of the ordinary to score in double-digits.
"[I was] just playing my role, just seeing what's available, and what the defense is giving me," Pleasant said.
A Jackson fast-break dunk with 3:20 remaining in the fourth quarter extended the Huskies lead to 62-54 and put any hopes BVHS had of a comeback to bed.

The Huskies next game is against Lee's Summit North as part of the Best of the Midwest Showcase at MidAmerica Nazarene University Saturday Jan. 7. Tip-off is scheduled for 7 p.m.