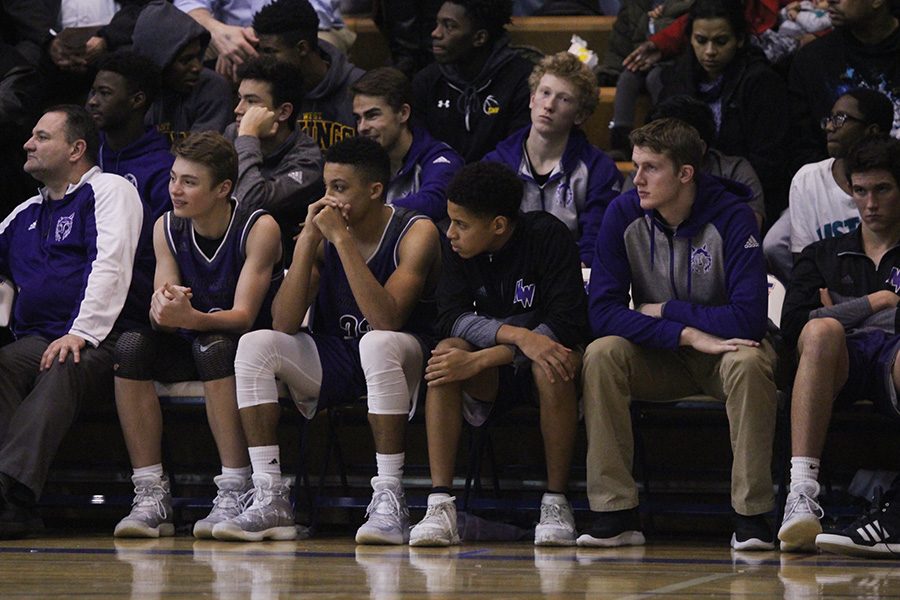 Jack Oxley
In their first true road game of the season, BVNW was defeated by Bishop Miege, 54-63. Although the Huskies and Stags were tied after the first quarter, 9-9, and remained close at the half, a third quarter run by the Stags put the Huskies in a big hole.
Senior guard Darien Jackson scored 21 points for the Huskies, leading the team in points for the third consecutive game. Jackson said the run by Bishop Miege was a result of BVNW's poor play.
"We kept fouling and wasn't really playing good defense," Jackson said.
Head coach Ed Fritz said one of the biggest issues with the Huskies' play was their offensive mindset. Fritz said he thought the Huskies inability or unwillingness to shoot from the perimeter was one of their weaknesses.
"When we drove we didn't look for our teammates, we tried to score," Fritz said. "We've just got people who can't do that, especially with [Miege's] height."

That height that Fritz spoke of came in the form of Bishop Miege sophomore forward Jeremiah Robinson-Earl and senior forward Francesco Badocchi, who are each 6-foot-9 and 6-foot-6, respectively. Fritz said Robinson-Earl and Badocchi outplayed the Huskies big men, all night.
"They beat our bigs pretty good tonight," Fritz said. 
Junior forward Joseph Pleasant added 10 points for the Huskies, but said that the defensive end of the floor posed them with the most issues.
"Getting back on defense, rebounding, I'd say those were really big factors," Pleasant said.
Despite trailing 40-56 with a little less than 4:00 remaining in the fourth quarter, BVNW mounted a comeback to make the game interesting. Part of that comeback included a personal 11-1 run by Jackson, trimming the deficit to 51-57. Robinson-Earl said the run by the Huskies near the end of the fourth quarter is part of what makes them dangerous.
"They're a team that can come back in the games if you let them," Robinson-Earl said. "They can drive, get fouls, get layups, [and] free throws."
Blue Valley Northwest's next game is against Lee's Summit West as part of the HyVee Shootout at Avila University on Dec. 17. The game is scheduled to tip-off at 6 p.m. Fritz said the team will need to come into that matchup better prepared if they expect a different result.
"It was pretty evident we weren't ready for the challenge [tonight]," Fritz said. "We've just gotta keep working, Miege is a really good team."