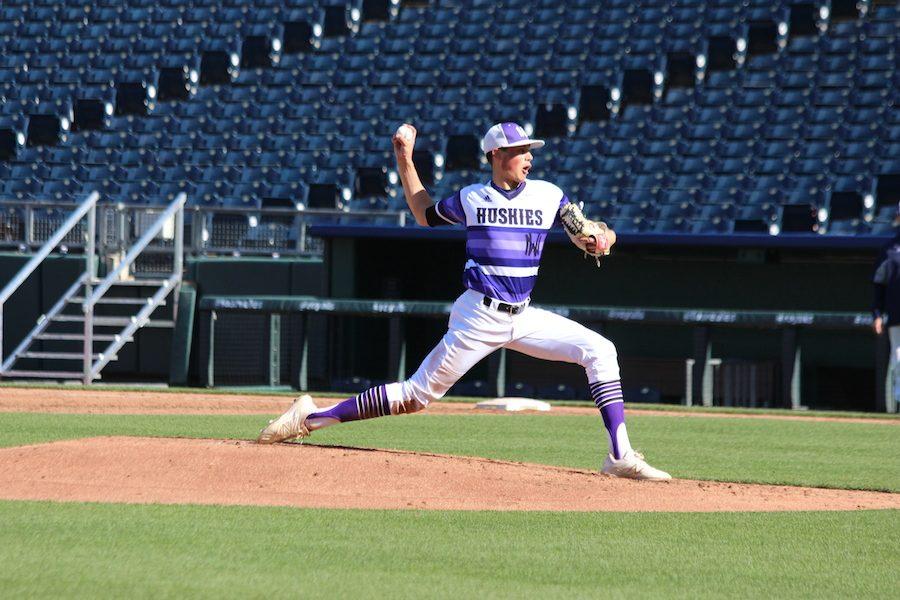 Jack Oxley
The varsity baseball team defeated Blue Valley North this afternoon at Kauffman Stadium, 6-0.
Senior Cole Duensing pitched a complete game shutout for the Huskies, allowing only four hits for the entirety of the game. Duensing said getting to play at Kauffman where he has imagined playing at for years was a dreamlike experience.
"It was pretty surreal," Duensing said. "I mean that's every little kid's dream so it was pretty cool to actually live that out as young as we are. The complete game was just a cherry on top."
Head Coach Corby Lange said getting four runs in the second inning was a key for the team to relax, and he was proud of their performance.
"It helps to get some early runs and settle in," Lange said. "I'm just proud of them, they're a great group of kids and they deserve this experience [to play at Kauffman], they worked really hard to make it happen."
Senior Jack Duke led off the seventh inning with a towering home run into the left-field bullpen. Duke also added an RBI groundout in the fourth inning, finishing the game with a team-high two RBIs.
"It was pretty special, since we've always watched games here since we were little kids," Duke said. "Hitting a home run there, I mean, it felt pretty normal. The field just looks a lot bigger because of the stadium."
Duensing said he was proud of today's win, and he said it should drive the team for the rest of the spring season.
"This just gives our team the extra boost to get where we need to this year," Duensing said.