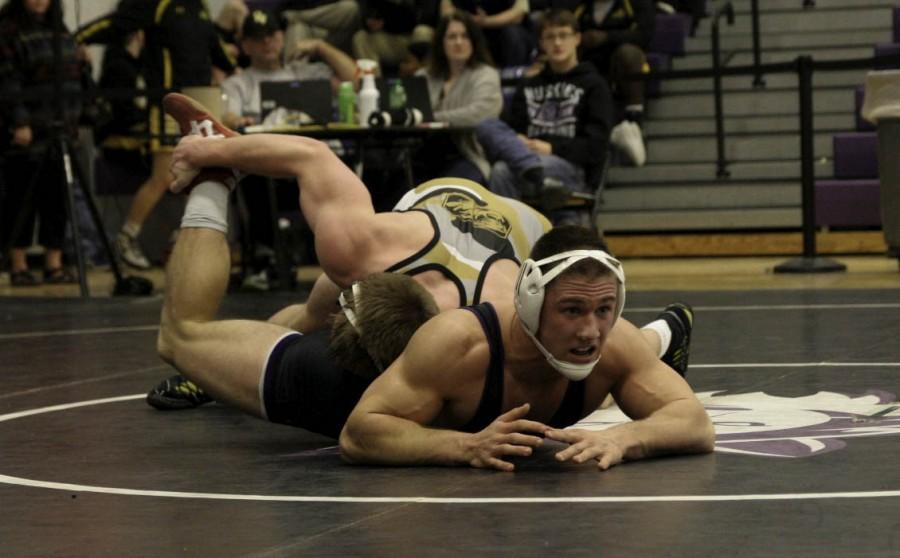 Justin Lehtinen
The BVNW wrestling team competed in one of their largest tournaments of the season Jan. 22-23. The Husky Invitational, an annual tournament held at BVNW, consisted of 24 teams from the Blue Valley, Shawnee Mission and Olathe school districts, as well as teams traveling from outside of the state.
With the Husky Invitational bringing in teams from outside the metro area, it provided an opportunity for the team to go against competition relative to what they would face in the State tournament.
Senior Jake McClain, a four year member of the wrestling team, said the Husky Invitational shows where a wrestler is  in comparison to where he or she would like to be by the end of the season.
"We bring teams in from throughout the whole state so it's kind of one of the closest things you can get to what competition at State is going to be like," McClain said. "You see them at this tournament, strategize and kind of figure out things to work at State where it matters the most."
Senior Jason Laramore, also a four year wrestler, said that the goal of the tournament is the same as at any other meet; however the style and match decision making changes because of how the different tournaments are scored. During a dual meet, losing by pin is worth six points for the other team, while losing by decision is worth three points.
"If you are winning a meet by a little bit [in] a duel, then you don't want to try anything risky," Laramore said. "In a tournament, if you're losing you might try something risky just to stay in it, because if you lose it doesn't matter how you lose, you just lost."
As part of the preparation for the Husky Invitational meet, the team had more technique-based practices rather than doing conditioning similar to preseason preparations.
According to McClain, the team normally does more live wrestling during practices to prepare for the amount of potential matches during the Husky Invitational. During the Husky Invitational, wrestlers can potentially have up to ten matches over the course of the weekend depending on their individual performances.
Laramore said this season the team seems to have a different edge and has taken a step up from previous years. Laramore said it has also coincided with a new team mindset that has led them towards a greater success.
"We're all kind of growing up and developing, a lot of our captains are doing a really good job encouraging us, staying there with all of us, and we're just kind of pushing each other," Laramore said. "We're going to win any match, there's no feat too big, we can win anything, we can win anything that we put our mind to."
The BVNW wrestling team placed second out of 24 teams at the Husky Invitational today. Here are the wrestlers who placed in the top six of their weight class.
Sam Elliott: second place 132
Abdul Qaddour: sixth place 152
Garret Tierney: third place 160
Max Tierney: first place 170
Blake Johnson: first place 220
Derrick Taylor: fifth place 220
Colin Kenney: third place 285