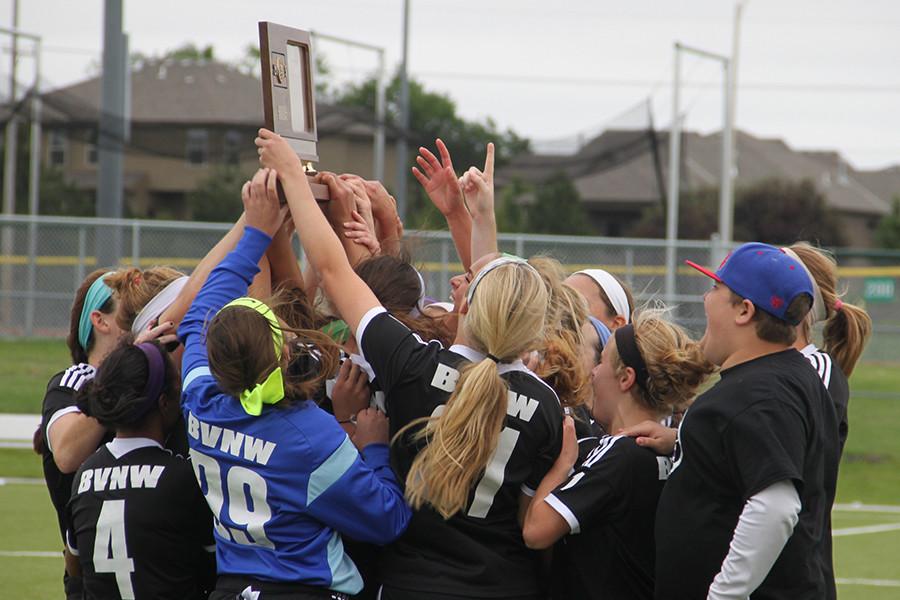 Emily Staples
For the third consecutive year, the BVNW girls varsity soccer team captured the state title. Today's game against Washburn Rural High School ended with a score of 2-1.
After having possession of the ball for the majority of the first half, a corner kick led recent graduate Cece Kizer to pass the ball to recent graduate and defender Katie Sullivan with 19 minutes remaining in the first half. Sullivan scored, bringing BVNW into the lead.
"I wasn't really thinking anything [when I got the ball]," Sullivan said. "It was a corner kick, and Cece – who scores all of our goals – laid it off to me and I was like 'Why not?' and I just kicked it with my left foot and it went in; I don't know how, but I'm happy."
With two minutes left on the clock in the first half, Washburn Rural took a shot on the goalkeeper, senior Kennedy Coffelt. Coffelt tipped the ball over the top of the goal with her fingers, saving the shot from going in the goal. Coffelt said there was a great deal of pressure on her to keep Washburn Rural from scoring.
"I was really nervous because [the shot is] coming right at me and I just have to catch it," Coffelt said. "[Playing goalkeeper] is a lot harder than it looks."
The half ended without any other goals scored by either team, despite numerous other shots on goal from BVNW.
12 minutes after the beginning of the second half, Kizer shot the ball, which then deflected into senior Sammi Arch's possession. Arch shot and scored, making the score 2-0. Washburn Rural responded by shooting and scoring with 13 minutes left in the game. The game ended with a score of 2-1.
Head coach Rick Pribyl said he was extremely proud of his team and all of their hard work that led up to winning the state title.
"This week, last week, this season started when [the players] were back in kindergarten," Pribyl said. "The amount of work they've put in to get this far slowly builds. Their skills were not learned overnight."
After three years on the varsity soccer team, Sullivan said she was very happy to end her final season of soccer at BVNW with a state championship.
"We're just all on cloud nine right now," Sullivan said. "We played this whole season with a lot of pressure to repeat state championships, and with people leaving and graduating every year it's not an easy thing but we just worked our butts off and we really support each other, and there's no way that we would have wanted to end it other than a state championship."