2015 winter sports signing
BVNW students participated in the 2015 winter athletic signing in the PAC today.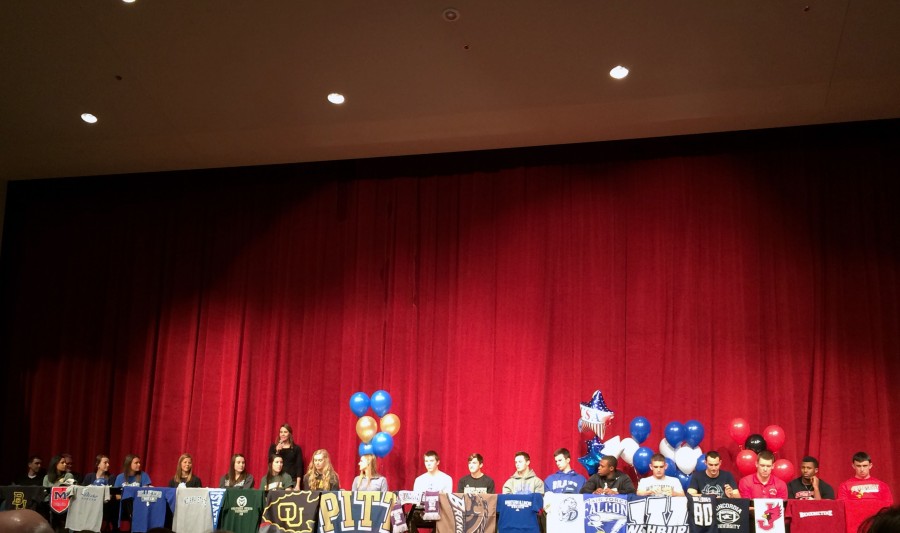 Below is a list of students who signed athletic letters during TCB today in the Performing Arts Center.
Football
Alexander, Miles- Air Force Academy
Bennett, Adrian- Highland C.C.
Hughes, Caleb- Washburn University
Kolpin, Stuart- Concordia University (NE)
Kutey, Jack- William Jewell University
Robinson, D.J.- Benedictine College
Walker, Jackson- Coffeeville C.C.
Soccer, Boys
Alter, Daniel- Truman State University
Blalock, Andrew- Drake University
DeJulio, Jake- Western Michigan University
Glass, Sam- University of Wisconsin-Milwaukee
Kerns, Trevor- Eastern Illinois University
Soccer, Girls
Bryant, Cierra- Baylor University
Fiorito, Linda- Drake University
Kizer, Cecelia- University of Mississippi
Kucera, Karley- St. Louis University
Shaughnessy, Megan- Ottawa University
Sullivan, Kate- Indiana State University
Taylor, Makenzie- Colorado State University
Volleyball
Ellis, Adeline- University of Pittsburgh