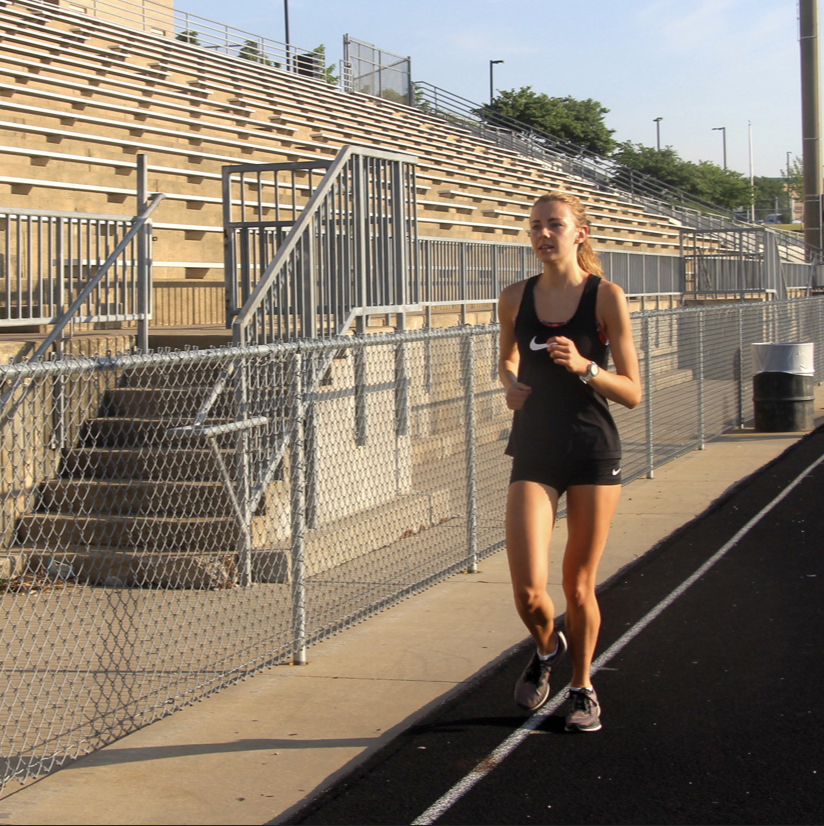 Blue Valley Northwest began voluntary, outdoor athletics and activities conditioning on June 15. According to an email sent out by Assistant Principal Andrew Addington on June 1, the date was selected as the state is now in Phase 3 of Gov. Laura Kelly's "Ad Astra: A Plan to Reopen Kansas," which allows for larger group size and gave BVNW staff time to plan for the health and safety of those involved in the summer conditioning programs.
According to the email, many precautions are being taken to ensure the health and safety of students. All school-sponsored athletics/activities are voluntary and those who attend will be required to social distance, per KSHSAA guidelines. Along with this, no shared equipment will be used, meaning indoor facilities including the weight room and gyms will be closed.
With these rules in place, coaches and players alike are preparing to adapt to a new summer conditioning program. 
Head football coach Clint Rider said it will be difficult to navigate some of the changes, but he believes that his players will be excited to get back to playing football.
"As a coach you feel uneasy about how prepared your kids will be both physically and mentally, but I think this time off has allowed everyone to reset and become motivated for the upcoming season," Rider said.
Having been away from his players since March 12, Rider said he posted daily workouts for his Strength and Conditioning students on Instagram and Twitter and held Zoom workouts for the football team. While the situation wasn't ideal, Rider said he tried to make the best of it by giving his players the resources to stay active.
"I held Zoom workouts two days a week as a way to keep in touch with our players and help them stay active and prepare for the season," Rider said. "The kids had a large deal of self accountability but I believe most of them took advantage of the resources that were given to them."
While the football team missed out on time in the weight room and on the field the past three months, Rider said the new schedule could be beneficial to the team. In the past, summer workouts started the first week of June and went through July. This year, summer workouts will lead right up to the start of the school year and Rider said this will make the transition into practices and games much smoother. 
"I think the retention and consistency of working with kids for a longer period of time right before the season will definitely help in getting our guys ready to go," Rider said. "At the same time, we have to be smart about how hard we push our players right before the season starts because we don't want to mentally and physically drain them."
Similar to the football team, rising senior Riley Beach said the cross country team has found ways to train for the upcoming season despite the limitations due to COVID-19. 
"As soon as summer started we started training unofficially without coaches, while following social distancing guidelines. We've been meeting at a bunch of different parks around the area and they have a lot of different surfaces to run on which has been good practice," Beach said.
With many of the members of the cross country team also participating in track and field, Beach said in the past, many runners are fresh off of the track season as they enter into summer conditioning for cross country. But with this past year's track season being canceled due to COVID-19, many runners had to make up for this by training on their own before the group workouts began in the summer.
"A majority of our runners trained over quarantine, but it was very hard for a lot of us because we didn't have any races or anything to look forward to," Beach said. "I think once we start training more as a group, everybody will start to become motivated and excited for the season."
Beach is hopeful the hard work the team has put in the past three months will continue throughout the summer and into next season and said the team can have great success. 
"The team has been working incredibly hard and training really consistently over this time even though they weren't necessarily required to. I think toward the end of next season we'll see the results of putting in all of this work when other teams might not have been doing the same," Beach said.
 Girl's head basketball coach Matt Shulman said the BVNW staff worked together to figure out a way to safely and effectively hold workouts they had planned prior to COVID-19.
"After the COVID situation happened, It definitely changed our perspective and changed how we had to operate, just kind of waiting to see what we could do and waiting to see what other districts and what the state would allow so it definitely made planning harder," Shulman said. "But, we have a great group of coaches who along with Mr. Addington and [Athletic Trainer] Christy Grimes worked together to make sure we can do these workouts."
While being unable to practice and train together for the past three months, Shulman said this won't have too big of an impact on the season as all of the other schools in the area are in the same situation.
"While it is a negative that workouts have been set back a month, it's important to realize that this is an issue for teams statewide, so it really puts everybody at a level playing field," Shulman said.
Shulman said during the school year he gets into a routine of seeing his players in the halls and at practices, so he believes after this long time apart everyone is very excited to see each other and get back to working out and competing.
"Seeing players through Zoom or texting them just isn't the same as being together in person, so this is definitely something that is going to be exciting for everyone," Shulman said. "I think everybody is more motivated and excited to get back to playing than in years past which will be very beneficial this summer."
The following schedule for summer workouts started on June 15.
7 a.m. – 10th -12th grade male athletes / football coaching staff / DAC
7 a.m. – 9th-12th grade male and female athletes / cross country coaching staff / practice soccer fields
8 a.m. – 10th-12th grade male athletes / male sport coaching staffs / DAC
9 a.m. – 9th grade male athletes / male sport coaching staffs / DAC

10 a.m. – 9th-12th grade female athletes / female sport coaching staffs / DAC