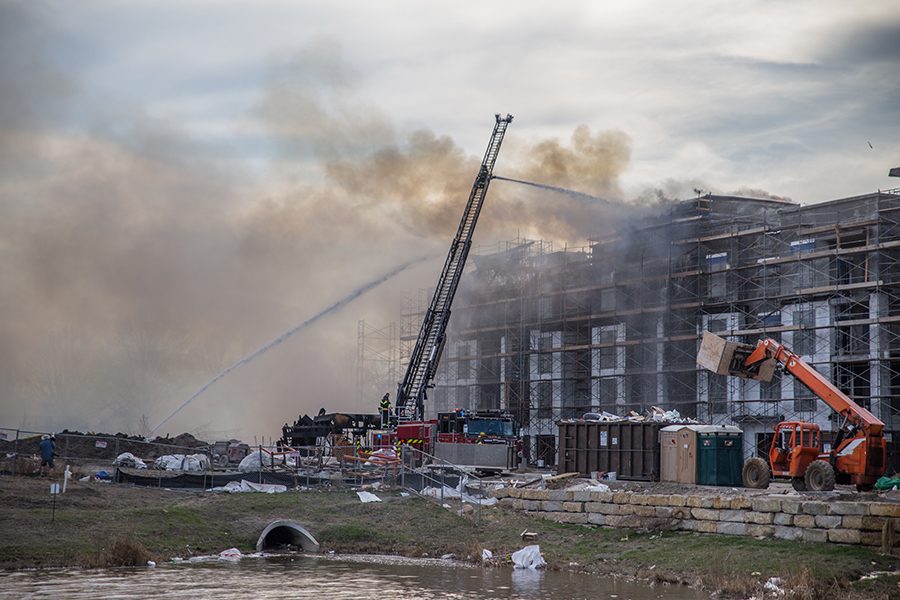 Justin Lehtinen
A fire broke out at The Royale apartment complex earlier today and has spread to cause damage to nearby houses. A number of BVNW students live in this area and have witnessed the fire.
Junior Madi Martin lives in the neighborhood, but the fire did not damage her house. She said the situation is "insane."
"People are all the way here from Greenwood, Mo. for first responders," Martin said. "…Neighbors were banging on each others' doors to make sure people are not inside. A lot of the houses look OK in the front but [are] totally gone in the back."
Sophomore Braeson Kliem lives in the affected neighborhood and his house was not affected by the fire either. He said he saw many people in the area taking videos and pictures on their phones. Kliem said people affected by the fire were crying and talking to police and emergency response teams.
"This is the first fire I've been this close to," Kliem said. "I think it's kind of just really intense in the moment it's happening [because] no one really knows what's burning and whose houses are burning either."
Senior Jake Hansen said he was driving to his house when he saw the smoke from the fire.
"I was just kind of watching it for a little bit and then the fire trucks came," Hansen said.
Hansen said after the fire trucks arrived, he offered his help.
"There was an old guy who needed some medical assistance so I tried to help," Hansen said. "I carried him to another house. The firefighters were asking us to get water so I had to go get jugs of water for them."
Senior Olivia Edwards also lives near The Royale apartments. She said her house was not damaged, but the debris from the fire affected houses near her. She said her mom called her when she was working to tell her they are not allowed to enter their house.
"I talked to my mom and she was like 'I just wanted to let you know… our neighbor's house is on fire. Our house is fine, but they won't let you back in the house, so you should stay somewhere else.'"
The cause of the fire has not been determined yet.
We will continue to update this story as we confirm more information.