Brightening the halls on Class Color Day
A look at the third day of Spirit Week, Class Color Day.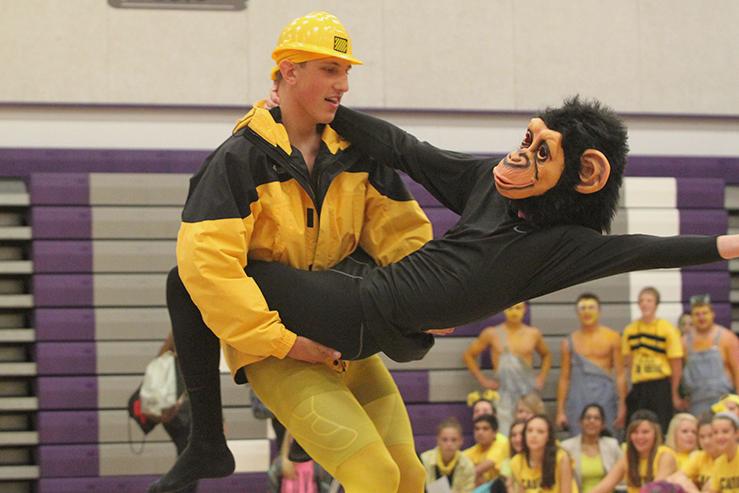 Green, yellow, red, blue and black. This Husky version of the traditional rainbow painted the halls on Class Color Day, the third day of spirit week. This morning started out with everything from bedtime stories, to a kiss cam with the Chiefs, to Sesame Street.
The halls were buzzing today with talk of "the kiss." During the junior spirit dance, one segment was the Kiss Cam, during which a jovial principal Amy Murphy bestowed a kiss upon the cheek of one student.
"I knew something was going to happen because they told me beforehand 'We're coming for you, Dr. Murphy,'" Murphy said. "I'm a pretty good sport when it comes to Spirit Week."
Whether it was watching the kiss or laughing at the choreography, students, such as junior Anna Koz, said they enjoyed today's events.
"Today had the best skits, which I think is funny because, really, what are you supposed to do for Class Color Day?" Koz asked.
Although there has been recent debate about disqualifying grades for making fun of other classes, Koz said that banter is all in good fun.
"We were all once freshmen; we're all going to be seniors," Koz said. "So what's the point of censoring it?"
Senior Stephanie Barner said her class has definitely grown from freshman year.
"I feel like freshman year our class was spirited, but we didn't have a lot of spirit [when it came to] our shirts," Barner said. "Our class has really come together now."
Last night, Barner said she heard local radio station 95.7 the Vibe recognizing BVNW for the best school spirit they had ever seen.
"Our school spirit really puts us on the radar more than other schools," Barner said.