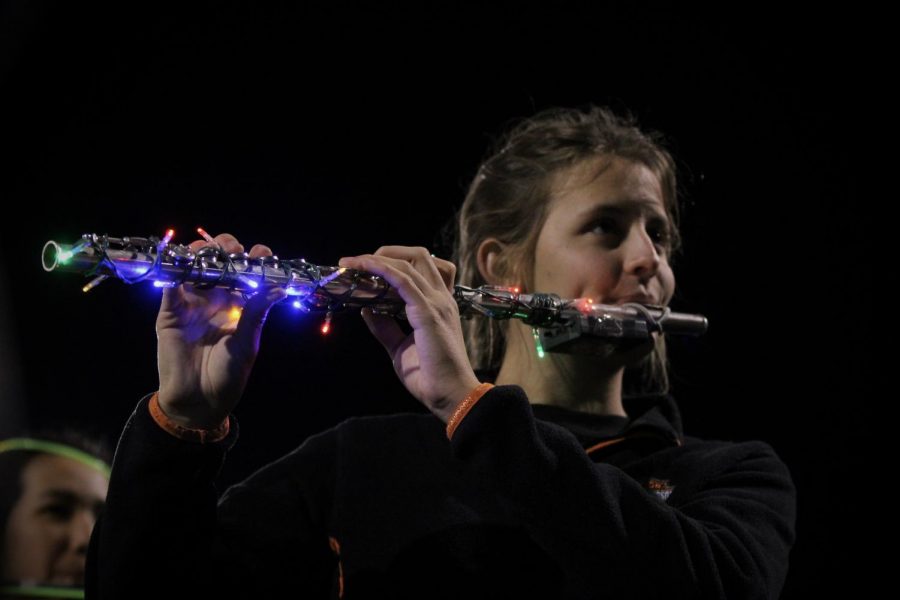 Lola Shipman
The Howlin' Husky marching band's annual Glow Show was held on Nov 2. The theme for the Glow Show was "Metallic," including the songs "Thunderstruck" by ACDC, "Titanium" by David Guerra, and "The Song Remains the Same" by Led Zeppelin, followed by the BVNW's fight song.
The Glow Show is a fundraiser for the band director Adam Lundine said, but also mentioned that it is a celebration of the marching band season.
"It's our student's favorite event of the year," Lundine said. "I think they usually talk about it for a long time after it's over."
Lundine said that the show held is the same performance that is performed at football games during halftime, only in the dark.
"Its a little crazy when we do it, and it's kind of exciting," Lundine said. "We have a good time."
Students participating in the marching band dressed up in black suits with green glow sticks glued on. When the lights turned off, the students appeared as stick figures to the audience. They also had the option to put lights on their instruments.
Lundine said he was very impressed with the production of the Glow Show, despite the weather being cooler than the past years.
"The cold affects our electronic equipment, so that's something you gotta deal with," Lundine said. "But, we were really impressed with the turnout and the number of people who were there in the audience."
Drum major Cameron Quick agrees that the Glow Show went well, regardless of the cold weather.
"The most important thing was that we had fun and that the audience had fun," Quick said. "I just think the darkness and the glow suits make for something different that you don't get to see every day."
According to alto saxophone player Ian Gram, the Glow Show was a rough performance due to the cold, but the high energy of the event always makes up for it.
All in all, even though the weather did not quite cooperate with the Glow Show, Lundine said the Glow Show was an exciting experience for not only the kids, but the parents and students watching the show themselves. It is the performance that the band kids all look forward to, Lundine said.
"We have a lot of energy at the glow show and it's fun performing," Gram said. "Everyone just loves it."