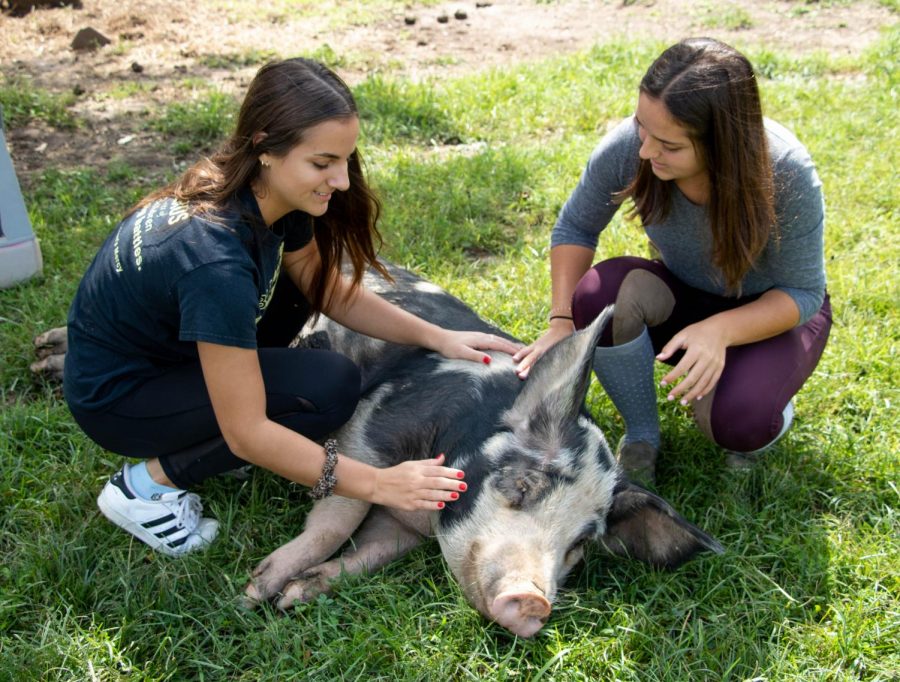 Lauren Kline
During her Veterinary Medicine class at CAPS, 2018 graduate Olivia Rigdon said she was told not to get too attached to the baby piglets at the farm where they were working. The pigs were to be slaughtered for food. Instead, Olivia said she formed a special connection with a small piglet with a black spot around his eye that would always walk up to her. In order to save the piglet, named Franklin, she bought him for $300 from the farm.
"Once it came close to the time that we were supposed to send them to slaughter, I felt like I was almost in charge of his life at that point," Olivia said. "If I hadn't saved him, nobody else would have."
Junior Paige Rigdon said she has also formed a bond with Franklin since her sister adopted him when he was 6 months old.
"We knew we couldn't adopt all the pigs because there were about 19 of the piglets," Paige said. "But, Franklin just really stood out to Olivia because he had this black spot in his eye and would always come up to her. He just stood out with his little spot and his personality. I know it's just a pig, but he's so bubbly and happy."
The day Franklin was adopted, he was brought to live at Redbud Refuge in Cleveland, Mo. Redbud Refuge is home to primarily pigs, plus peacocks, chickens, goats, and horses. The farm fosters the animals and allows visitors throughout the week. 
Paige said she always enjoys going to visit Franklin at the farm because of the happy environment of the animals. Getting to interact with the different wildlife, Paige said, is uplifting because they are being cared for as animals with hearts and brains, instead of just food.
Redbud Refuge owner Teresa Kearney is also the cofounder of the Kansas City Pig Rescue Network. The group consists of many people in the Kansas City area working together to find homes and shelter for pigs, as well as doing fundraising and community outreach. 
"We originally found a home for him out in Wichita," Redbud owner Teresa Kearney said. "He was waiting here for over a month, and in that time he got very attached to the other pigs here and got comfortable with the routine."
Franklin ended up staying at Redbud Refuge and has been sponsored by the Rigdon family, who've covered the cost of Franklin living at the farm, for the last year and a half.
Sponsoring a pig, Olivia said, has also strengthened her relationship with her sister and helped her build connections with many people around her who are interested in Franklin.
 "I've gotten a lot of people interested in going out and seeing him and made a lot of connections with people I hadn't usually talked to before," Olivia said. "It's been eye opening, not only for me, but the people around me as well."
During her frequent visits to see Franklin, Olivia said has also formed a close relationship with Kearney, and admires her for the work she is doing. 
"Ever since we moved Franklin over there, I've gotten to know her really well," Olivia said. "I look forward to going out and seeing Franklin, but I definitely look forward to going out and talking to her because she's just the most friendly person I've ever met. I've learned a lot from her, just learning about pigs and things that I never would have known before." 
Kearney said Franklin has gotten many visitors in the time he has been at Redbud, and has grown more than 100 lb since he first came to Redbud, weighing in at 300 lb.
"But, he really hasn't changed, he's just as sweet as he's ever been," Kearney said. "He's still very much a piglet at heart, but it is interesting watching how people have changed when they come and meet him."
After meeting Franklin, Kearney said many people's perceptions of pigs set to be slaughtered changed. Many of them, Kearney said stopped eating pork and other meat altogether.
"It's interesting to see how people can meet him and realize that their pork chops aren't coming from some crazy thing," Kearney said. "This is a feeling, loving, attentive puppy-like animal that we're slaughtering by the thousands every day. I know a lot of people think that veganism is extreme, but choosing kindness and not killing things, how is that extreme?"
The pig's visitors aren't the only ones to feel this way, as Olivia and Paige stopped eating meat made from pigs after adopting Franklin, and slowly worked up to not eating any meat. 
"Three-fourths of my family has become a vegetarian because of him," Paige said. "You realize that was a life that was supposed to be taken for food. And, just seeing him and his life now it makes you so much happier, because he's so sweet."