2018 graduate Ben Holloway self-publishes book of poetry
2018 graduate Ben Holloway wrote, illustrated and published a book of poems about mental health called "The Adversary: And thoughts of a teenage depressed boy on teenage mental illness."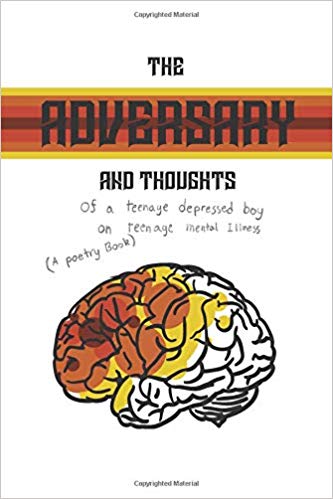 2018 graduate Ben Holloway said he suffered with depression and anxiety on and off since his sophomore year of high school due to his academic struggles. Holloway said he believes this started due to him not applying study habits and productivity to his academic lifestyle.
In his senior year, Holloway said English class wasn't his top priority before writing his book and poetry was the way he began to invest in it. He said he never excelled at writing until he began writing poetry.
In the first semester of senior year, Holloway said he began to write poetry after he met a girl named Nia Ratestraw, from Lexington, Mo. on Tinder.
Ratestraw said the death of her mother when she was 13 prompted her to begin writing poetry. Ratestraw said she told Holloway she was a poet, which she said encouraged Holloway to write poetry.
"He thought that it was a really cool idea," Ratestraw said. "As we grew closer, I introduced him to different poetry and I showed him mine and he really liked them. Then, he got into it."
In the fall of his senior year, Holloway said he was assigned by ELA teacher, Dan Eigenberg, to write a poem inspired by the most recent solar eclipse. The purpose of the assignment was to give students practice with poetry structure and rhyme scheme, Eigenberg said.
Holloway presented his poem "End of Day" to the class, which Eigenberg said was impressive and awe-inspiring.
"His classmates were sort of in awe," Eigenberg said. "He's really smart. He's unusually thoughtful and he has really excellent vocabulary. I know I was impressed. I thought it was moving and powerful. "
Holloway said he was proud of the poem he had written for Eigenberg's class.
Gifted teacher and former artist Chad Askew said that he met Holloway during his freshman year and that he was an identified gifted student that was in class mostly every semester in his four years at northwest.
After Holloway showed Askew his artwork and poetry, Askew said he was impressed by his honesty.
"I loved it," Askew said. "He's very honest and open about emotions and subjects like exploring ideas and destigmatizing mental illness. He's an open book as far as just expressing himself."
The transition from writing for fun to writing a book about mental health occured when Holloway said he began receiving compliments on his writing.
"I was writing columns for about a year or so and getting compliments on them," Holloway said. "One of my friends at college said, 'You have really good poems about mental health. You should publish. Imagine if you help one person because you publish a poem about depression or something like that.' And I was like, 'I need to do that.'"
Shortly after Eigenberg's assignment, Holloway said be began constructing his book over mental health. His writing process occured when he said he was struggling with his mental health.
"I needed something that would help me channel emotion," Holloway said. "It would be during panic attacks. I would write and it would help me handle the emotion into something constructive so that I wasn't doing something destructive."
Tobi Holloway, Holloway's mom, said she found out her son was writing a book over the phone while he was attending the University of Kansas.
"He had been collecting poems and everyone in our family and friends would say how great they were and that he should publish," Tobi said.
When Tobi saw his poems, she said she didn't think Holloway would leave the book unfinished or give up on it. Also, Tobi said she was impressed that her son went through all the self-publishing steps and eventually got the book published himself.  Those steps go from writing the poems to having them scanned and printed, Holloway said.
During the process of creating the book, Tobi said Holloway taught her to be courageous and to take risks.
"[It was] wildly courageous of him and I admire that," Tobi said.  I learned something about taking a very personal and visceral experience and turning it into art. I got a glimpse of the process."
In the future, Holloway said he would love to write and publish more books, but doesn't think it would be realistic for him.
"All my life, I wanted to make video games," Holloway said. "I dropped out of college, so I have to come with a new career unless I eventually go back. I would love to be an author, but you can't just go through and become an author. You have to go through the steps and get lucky to become an author. So I would love to do that, but I won't be able to."
After dropping out of college, Holloway said he went to an intensive outpatient care (IOP) at Shawnee Mission Medical Center for two months, where he later got the help he needed.
"I did that for a little bit and that's when my book got published was right after I got out of IOP. The IOP was nine hours a week for two months. I did that for a little bit and my book got published right after I got out of IOP."
Holloway said he hopes his readers will better cope with their emotions.
"I hope that they take away an emotional experience, or that they learn something that helps them emotionally," Holloway concluded.  
"The Adversary: And thoughts of a teenage depressed boy on teenage mental illness" was published Dec. 25 and is currently available on Amazon for purchase.